This looks like a weird one. Now that Roger Stern has moved over to ASM, Bill Mantlo has taken over TAC. Again. He wrote most of the first 40 issues of the book, so when they needed someone to take over, I guess they didn't look far. He's settling in for more than 2 more years at the helm of the title. Ed Hannigan & Jim Mooney provide the art. Gold Bug, who I am not at all familiar with, has approached The Maggia about a profit sharing partnership. They send him to go do… something at the ESU Science Lab as a test. Turns out, Peter Parker is having a bunch of gold delivered to ESU for an experiment. He documents the delivery with his camera as Spider-Man while the grad school cast wonders where he is. Does seem like he should be down there! After Dr. Sloan complains to Deb Whitman about him always being late, he finally decides to show up to his own experiment.

He could've at least talked about his photographer job since that's the actual reason he's late, but why'd he do that at all? Is him doing a science project really news? Meanwhile: Calm down, Phil, jeez! Poor Deb Whitman sits at her desk thinking about how Peter is too smart for her and would reject her, which is just… classic Deb… as Dr. Sloan goes to help Peter with his experiment.

"I can't afford to be a supervillain, but giving the mob 80% of what I steal ought to help!" Supervillains are so dumb. Goldbug is beginning to seem like an evil parody of Steve Ditko's Blue Beetle. Flying around in a bug-themed spaceship is a pretty unique gimmick, but it's been done. He looks a lot like Blue Beetle, too, now that I think about it. Back in the lab, phase one of the experiment is complete. The gold is all irradiated, and now it's time to see how much radiation it absorbs. Doc Sloan leaves Peter to finish alone. Poor Deb Whitman is out in the lobby trying to read physics books and feeling dumb when Goldbug bursts into the lab. He cut a big hole in the ceiling, and the debris fell on Peter, unable to get to safety in time due to the radiation suit. Goldbug uses his gold-gun to spray gold on the incoming security guards, encasing them in gold. Yeah, no wonder he can't afford his bit. Then Deb runs in and gets golded up, too!

I'm always here for stories where Peter's scientific skills help him in his super life, but the "science" here is pretty ridiculous. After the cops are done questioning him, Peter switches to Spider-Man and hunts down his tracer. Goldbug is in a warehouse thinking about how he loves gold so much he wishes he could eat it when The Maggia show up, closely followed by Spider-Man. He incapacitates the guards left on the door outside and heads in.

Spidey is, of course, trying to save them all from radiation poisoning, but they don't give him a chance to explain, so it's fightin' time. But not for long, because Goldbug is terrible at this. Soon enough, Spidey's outmaneuvered him and pulled his gloves off to show him his mistake.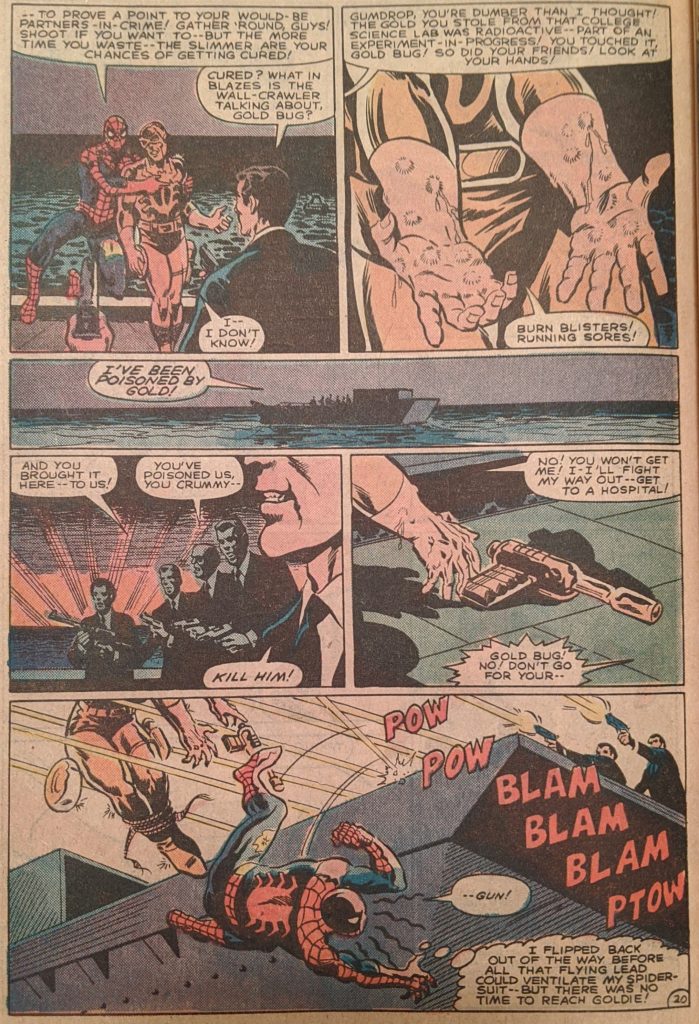 What a grim fate for Goldbug. Just kidding, you know he survived. They always do, even if the writer thinks they didn't. This was a rocky issue. Not saving space to see what happens with the gang at school seems like a mistake. Ah, well.