We jump ahead now to somewhere in the last half of 1981. The cover date is the date the book was supposed to be removed from the rack rather than the month of publication, you see, so while this is the January 1982 issue, I think that actually makes it maybe the July 1981 issue. Not 100% on how long the cut off date was. After his excellent run on Spectacular Spider-Man, Roger Stern hops over to the flagship. John Romita, Jr. hangs around for the duration, thankfully. Together, Stern & Romita will restore the luster to an ASM that has been floundering for ahem, 11 years, producing what I think is easily the best ASM since #100, even today. Let's get to it!

This issue, which also features inks by Pablo Marco and colors by Glynis Wein, begins with Peter getting a call from Aunt May. She wants to make sure Peter is still coming to dinner with her and her new man, Nathan Lubensky, on Saturday, and Peter says he wouldn't miss it. As Romita, Jr. depicts him literally bouncing all over his apartment picking up the pieces of his costume, he muses on how much more lively Aunt May has been since she moved into the Restwell Nursing Home and met Nathan, and then heads out to do some Spidey-ing. It's not long before he happens upon a  bank robbery in progress.

Stern's Spidey banter remains as note-perfect as it was in Spectacular, and Romita, Jr. is in fine form as Spidey takes out the fleeing goons, picks up his camera, and swings off to try to sell some pictures to The Daily Bugle. Meanwhile, at Bellevue Hospital, The Vulture is being taken in for physical therapy. He got beat up pretty bad in his last appearance. The orderly mentions they're short-staffed today, so he keeps having to leave. As luck would have it, he's put in the same room with the aforementioned Nathan Lubensky, also in for therapy.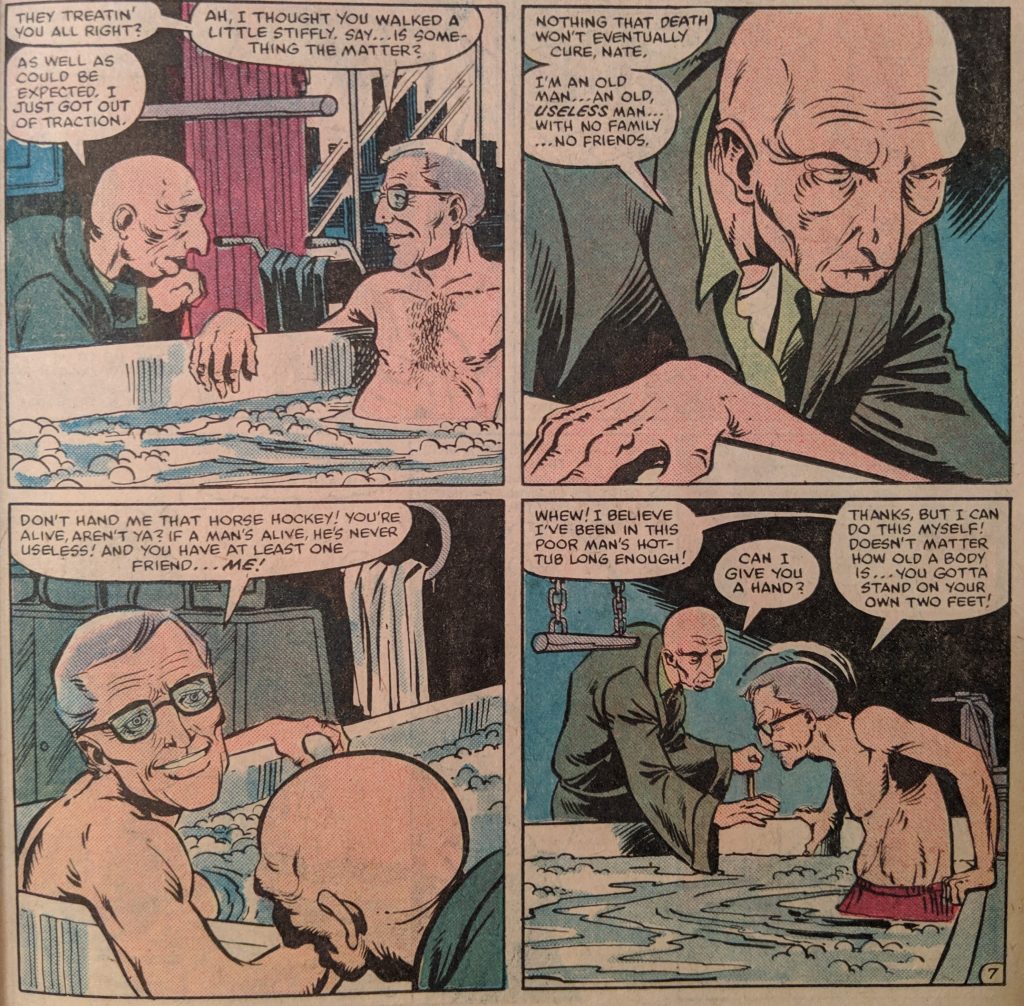 Nathan has no idea he's dealing with a crazy person, he's just really nice, and when Toomes sees being confined to a wheelchair hasn't taken one bit of Nathan's lust for life, he's inspired to stop feeling sorry for himself. But that's not good news for anybody. He starts dismantling some computer equipment while the orderly is wheeling Nathan out, and so, inevitably…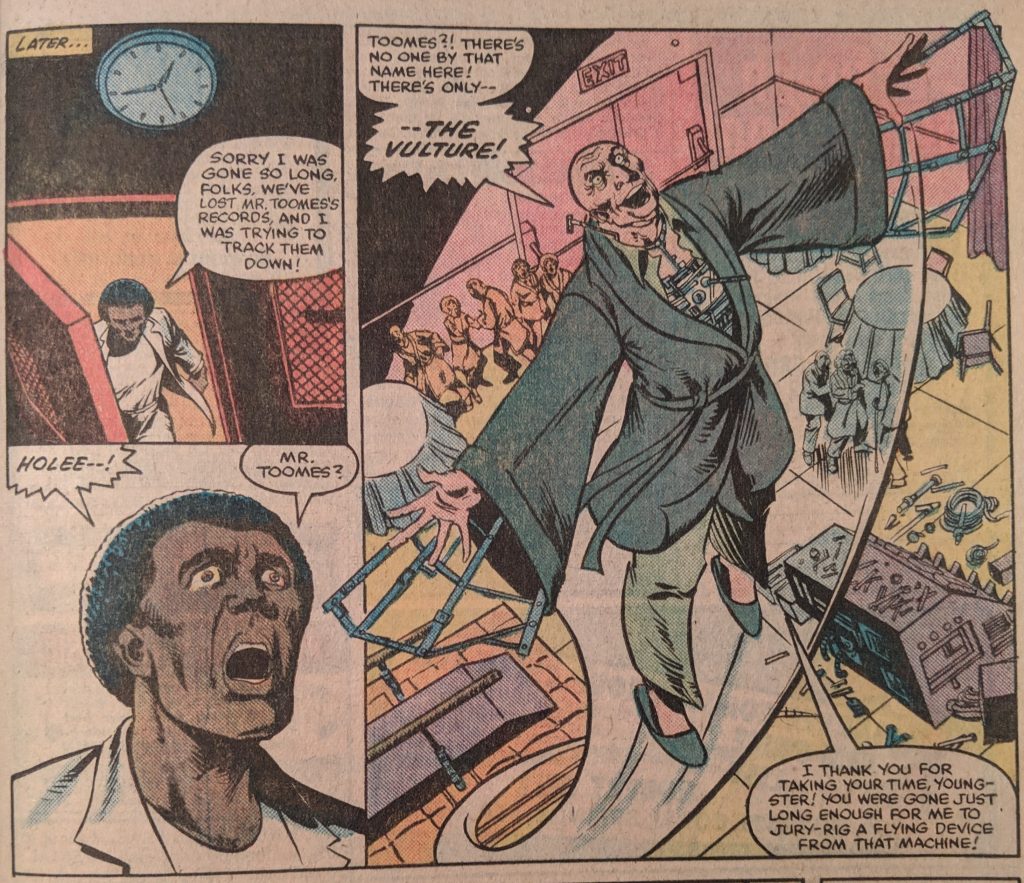 A bit hard to swallow that Vulture could whip up a flying machine from any random electronics, but then, it's kinda nice to be reminded he's actually a genius and not just a crazy old guy with wings. Meanwhile, at The Daily Bugle, rival photographer Lance Bannon is working hard to sabotage Peter's life. While Pete was developing his photos in the dark room, Lance unscrewed the warning light telling people not to come in, so the door is soon thrown open, and not only are Peter's pictures ruined, but he yells at whoever did it before realizing it's JJJ. Then Bannon fixes the warning light and goes in to develop his own pictures of the robbery Spidey foiled.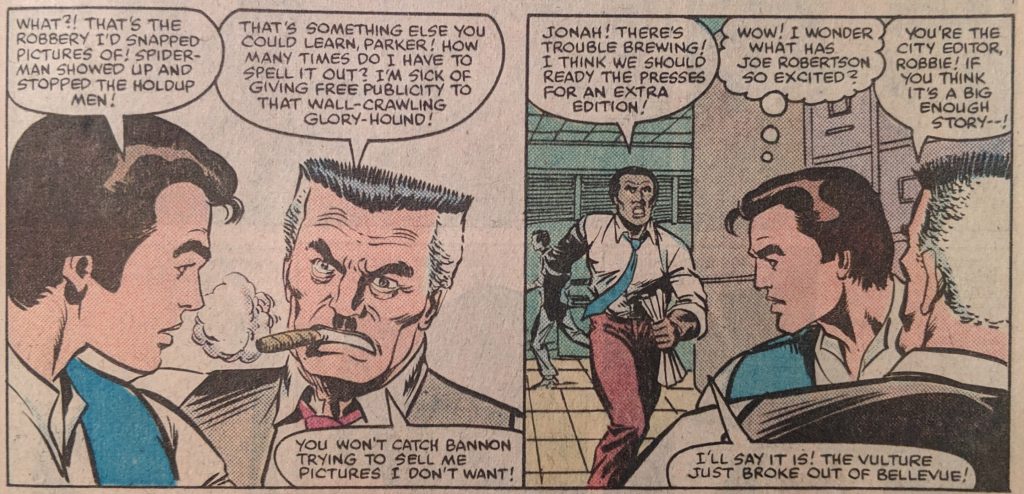 In the following days, The Vulture begins a crime spree, stealing diamonds and gold and robbing banks and armored cars, all during the day while Peter has been stuck in class at ESU. Now it's Saturday, and it's raining heavily, causing The Vulture to end his day of robbing, and giving Spider-Man the beginnings of a cold. Spidey stops his search for The Vulture to go meet Aunt May & Nathan for dinner, as promised. But when Aunt May sends him to get Nathan out of his poker game, Nathan is eager to introduce Peter to his new friend… Adrian Toomes.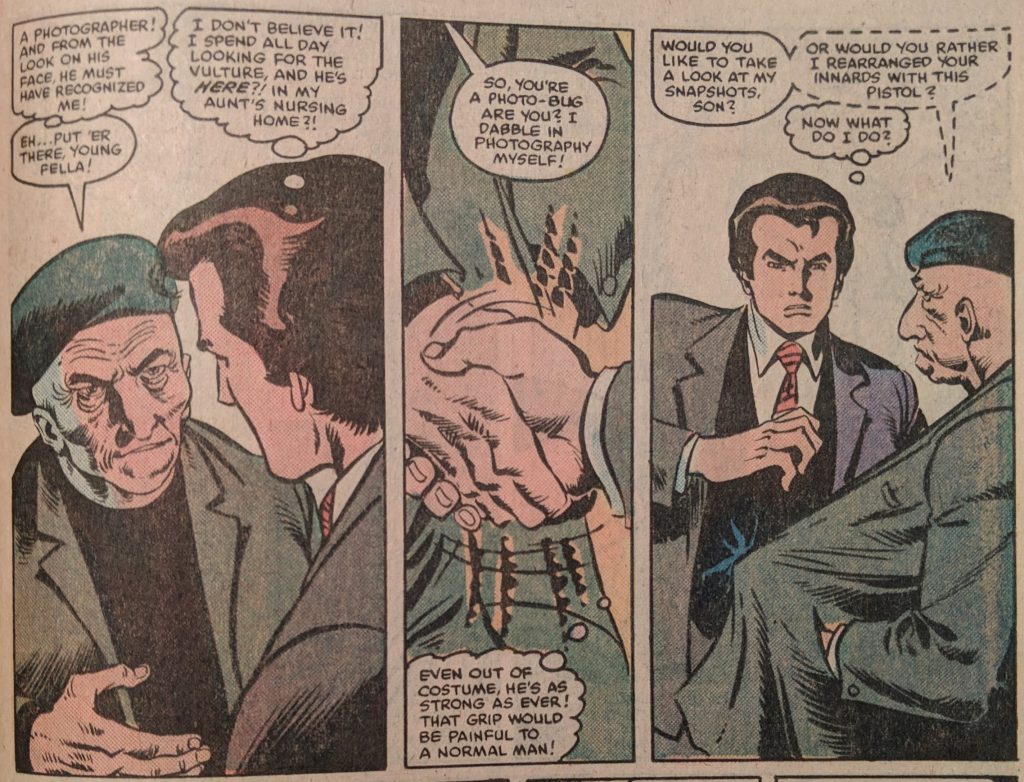 Unable to do anything but go with The Vulture, Peter is taken to Toomes' room, where Toomes hits him with the butt of his gun and ties him up. But then Aunt May comes looking for Peter, and in the few minutes Toomes is telling her Peter said he had important business and left… well, guess.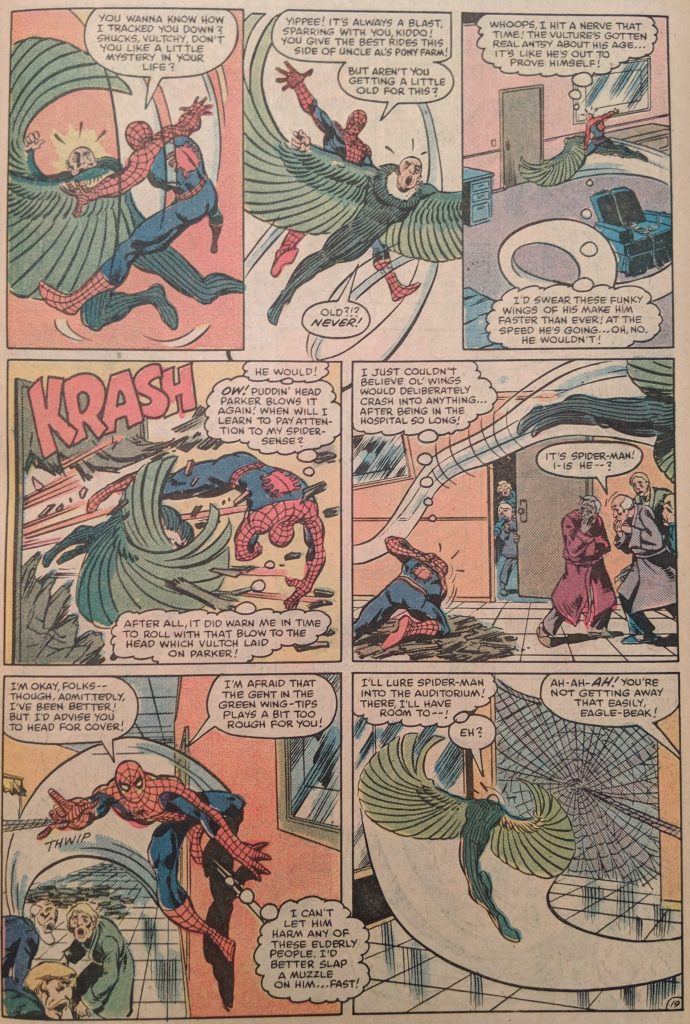 Their battle takes them all through the nursing home, eventually winding up in the rec room where Nathan was playing poker. Vulture grabs Nathan up in a headlock and threatens to kill him if Spider-Man doesn't back off, but Nathan starts yelling about how he'll fight Vulture himself. Toomes hadn't even noticed he grabbed his new best friend, and releases him.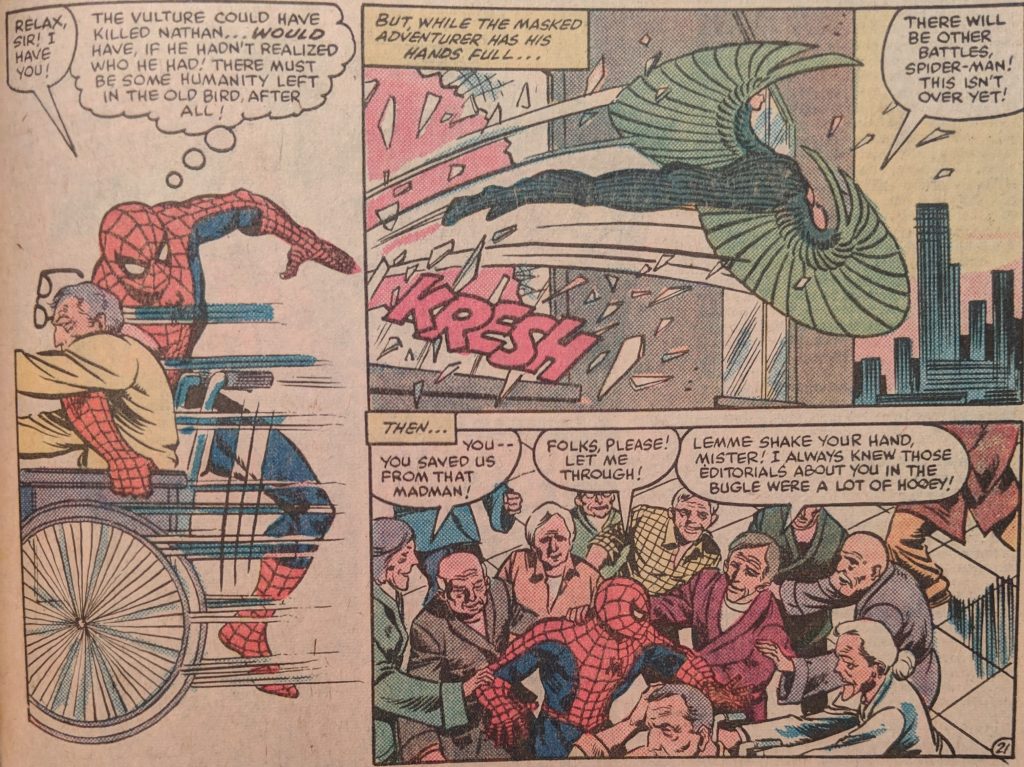 Vulture escapes, Peter appears and explains to Aunt May that he was tied up but Spidey saved him, and Nathan is in no mood to let almost being killed by a supervillain keep them from going out to dinner, so Peter's night is saved. A fun little story. Stern has great affection for The Vulture, and having Nathan accidentally give him a new lease on life was a nice twist.