With Gil Kane drawing Spider-Man, Jazzy John Romita happens to be over here drawing Cap as Spidey continues to guest star. You can leave Spidey, but Spidey's not gonna leave you, I guess. No inker is credited. Maybe it's John himself, maybe it's Tony Montellaro, we'll never know. Well, I'm sure someone knows. Anyway, we pick up rrrrrright where we left off last time, Cap driving away from Sam, Stone-face pulling up behind them in the distance.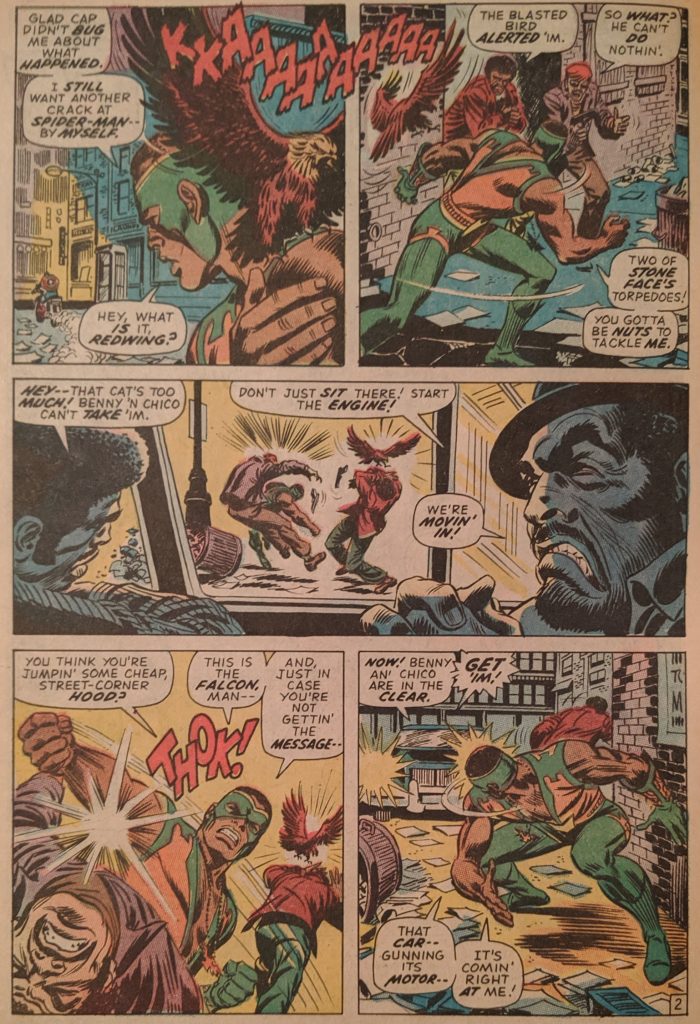 So Stone-face is supposed to be kinda like a Dick Tracy villain, I guess (Kids, ask your parents to ask their parents), cartoonishly exaggerated mobster features. Ok. They're just gonna ram Falcon with their car, but he calls in Redwing to fly in front of the windshield, giving himself just enough wiggle room to avoid getting crushed. He is, however, knocked out, so Stone-face has the goons load him into the car, and Redwing flies away. Then we check in on Spider-Man, who is himself checking in on Harry after his ordeal last issue.

Spidey heads back out into the city to find Falcon with his Spider Tracer, while elsewhere, Captain America broods about Falcon keeping secrets from him and about his feelings for Sharon Carter, when there's a knock at the door.

Cap does his best to keep up with Redwing, not helped at all by an oncoming storm, but soon the rain is too heavy for him to keep jumping around or even see Redwing, so he stops to wait it out. Spider-Man, though, has no problem swinging in the rain, so he's still on task, and his Spider Sense has lead him right to Stone-Face's limo, though he has no idea what's going on inside. Stone-face is detailing his new plan to use Falcon to get to Cap, and that will make their rep so they can do whatever they want.

Well, this got weird. Stone-face meets with a representative from the governor's office, and more or less tells him he has to pay a bribe to build an office building on his turf, which… I mean, I feel like the governor could just send in the National Guard if he really wanted to. But while they meet, Spider-Man's making a move to free The Falcon.

Spidey carries Sam out of there as Redwing returns to Captain America, getting him back on his partner's trail. As for Falcon, he wakes up while Spider-Man's carrying him and starts trying to choke him out, still trying to prove himself by beating up the guy saving his life. Spidey take a hit in the face and then webs Falcon up so they can talk about this. And that's when Cap shows up.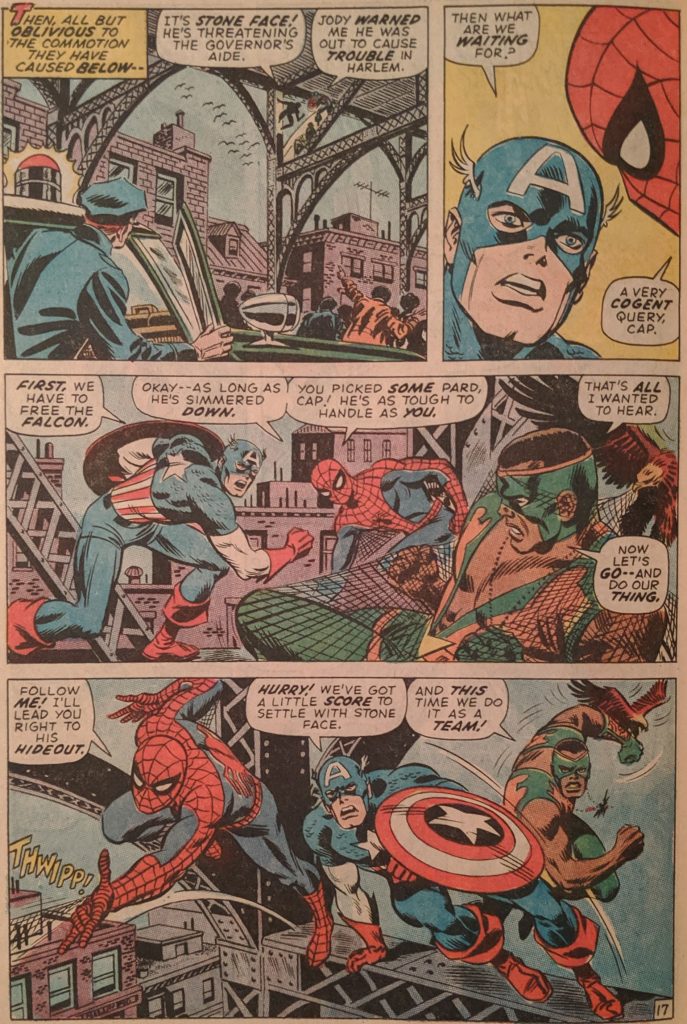 So ends a surprisingly extended Two Heroes Fight Over A Misunderstanding. Back at Stone-face's, his attempts to intimidate the government guy have turned physical when the heroes arrive. Spidey nabs the g-man and swings him away while Cap and Falcon get to work on the assembled goons.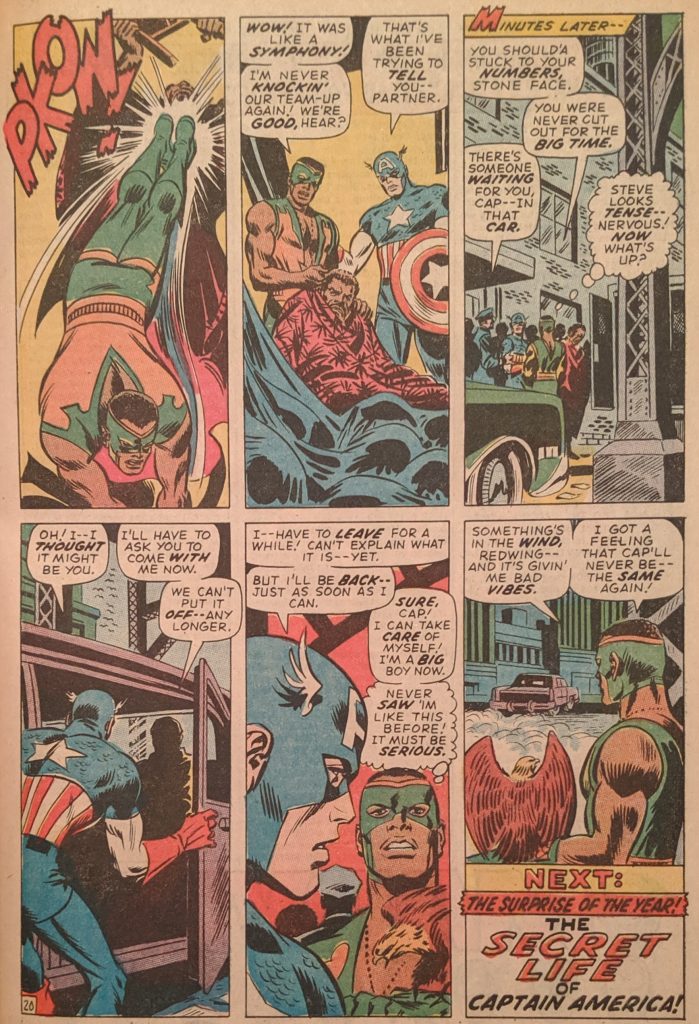 That was an abrupt ending. Spider-Man never even came back for the usual handshake and "good job." Cap's on the path that will lead to a stint where Steve Rogers was a cop by day, which is an odd turn for Cap. But that's for some Captain America blog to cover. Time for us to get back to Spider-Man comics. Jazzy Johnny's take on the Marvel U is so iconic. He didn't create everything, so he doesn't get the credit he deserves. But his more or less became Marvel's house style after a time. Once Kirby & Ditko left, he really shaped the look of everything, especially Spider-Man. He's one of the greatest of all time.