Well, it looks like things are escalating. Now, follow me, here: Namor hyped his people up to attack the surface world in 211, then canceled it. Then a shadowy woman comes out of the sea to spring the Wizard from jail in 212. So who is the mysterious new member? I feel like I see where we're headed. Let's find out!
Spidey and Wino Charlie both fall through the roof. Luckily, they fall into the apartment of a tenant with a waterbed. It has sprung a leak, so Spidey uses it as a shield and hopes the water will keep them from burning.
Spidey drops Wino Charlie in an alley and goes about his business. I wonder if we'll ever see Wino Charlie, breakout star of 1981, again. Elsewhere, The Wizard is angry Spider-Man escaped, but his mysterious companion refuses to waste time on taking another shot at him. I wonder if The Wizard has been in jail since the last time Spidey saw him (In the issue of FF we'll be looking at one day). I don't know why else he'd be gunning for Spider-Man. So, everyone in Peter's building gets put up in a fancy hotel by the insurance company while it's being rebuilt. And the hotel room turns out to be WAY nicer than Peter's place. He's pretty happy until he hears the same ol' country singing coming through his bedroom wall. No escape. But then guess who shows up? It's Peter's new crush, who once again renders him almost inoperative and still hasn't given a name. In spite of this:
That is a segue to Ryker's Island, where as soon as the warden gets done telling a visiting senator that there will be no more breakouts, the alarm goes off. We then learn that the other 2 current members of the Frightful Four, Sandman & Trapster, are sharing a cell… in costume… and they keep Sandman so drugged up he can't use his powers. Ok, sure. Then the prison floods, and then someone cuts a hole in the wall of their cell. Why, it's Wizard & Friend, of course. The 4 escape into the ocean, but not unnoticed.
The Mysterious Lady announces to the newly freed felons that she's their new leader. They don't like it. Meanwhile, in Atlantis, finhead guy reports to Namor. With a surprising detail: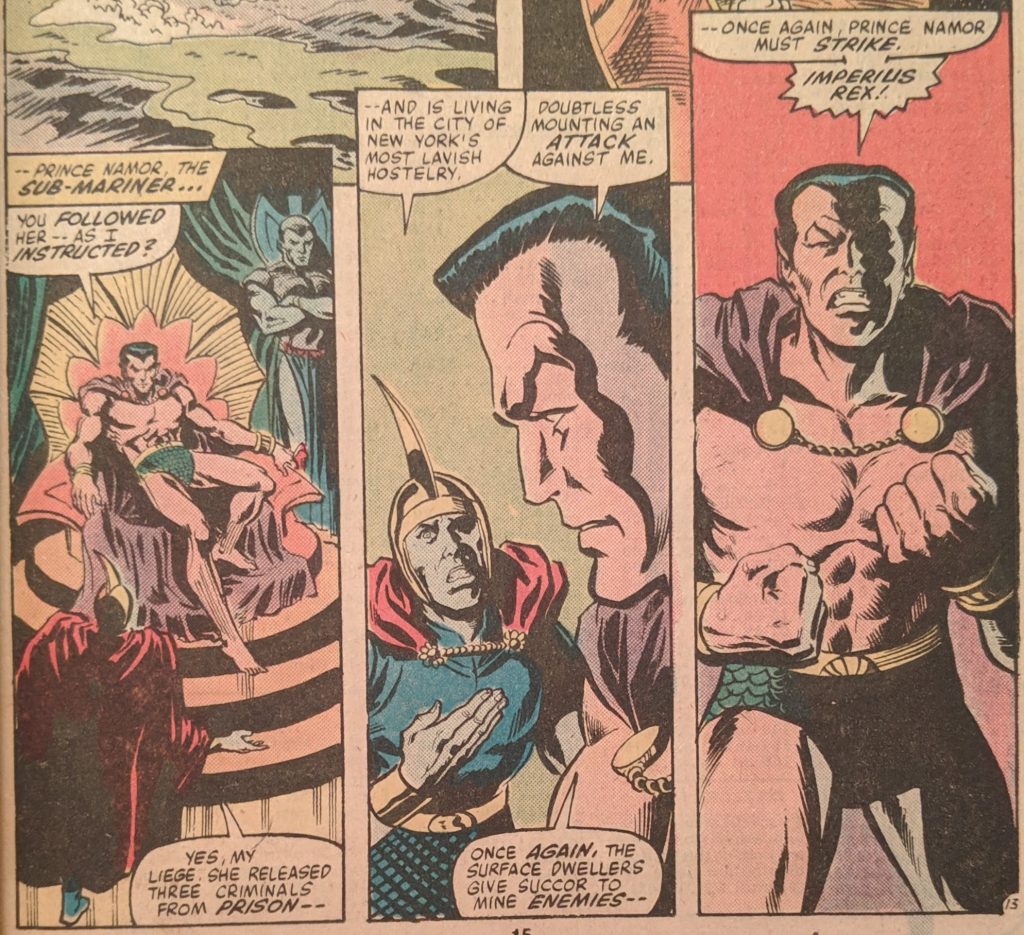 Wait. So. Wait. So the girl bewitching Peter is an Atlantean, and probably literally bewitching him? So who's the new member of the FF? They can't be the same person if she was busting the FF out of jail while Peter & his neighbor watched TV. Wasn't she on the roof when The Wizard and this lady set it on fire? I dunno, Spider-Man is now out swinging around, thinking about how every time he's around that woman, he's "wrecked." Then he sees Namor flying right at his hotel. And then he smashes right into the room of Peter's paramore, accusing her of seeking vengeance upon him.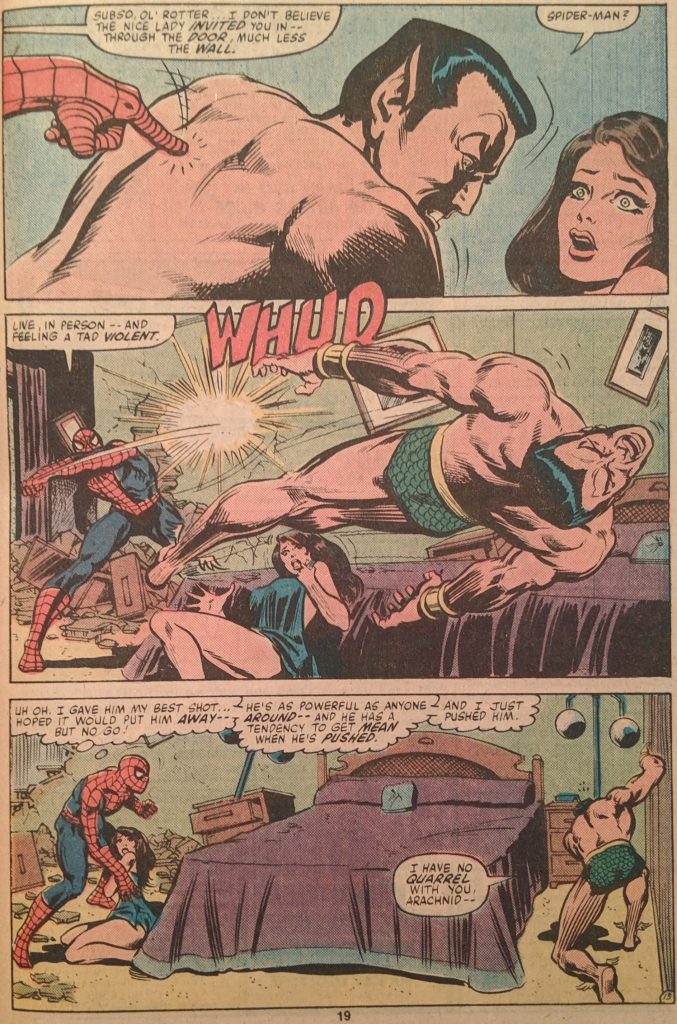 Well, I mean, it's obviously time for "two heroes fight over a misunderstanding," but this one's a little more complicated than usual. Namor flips the bed, which gives Spidey some cover to run off with the girl. Namor gets even angrier.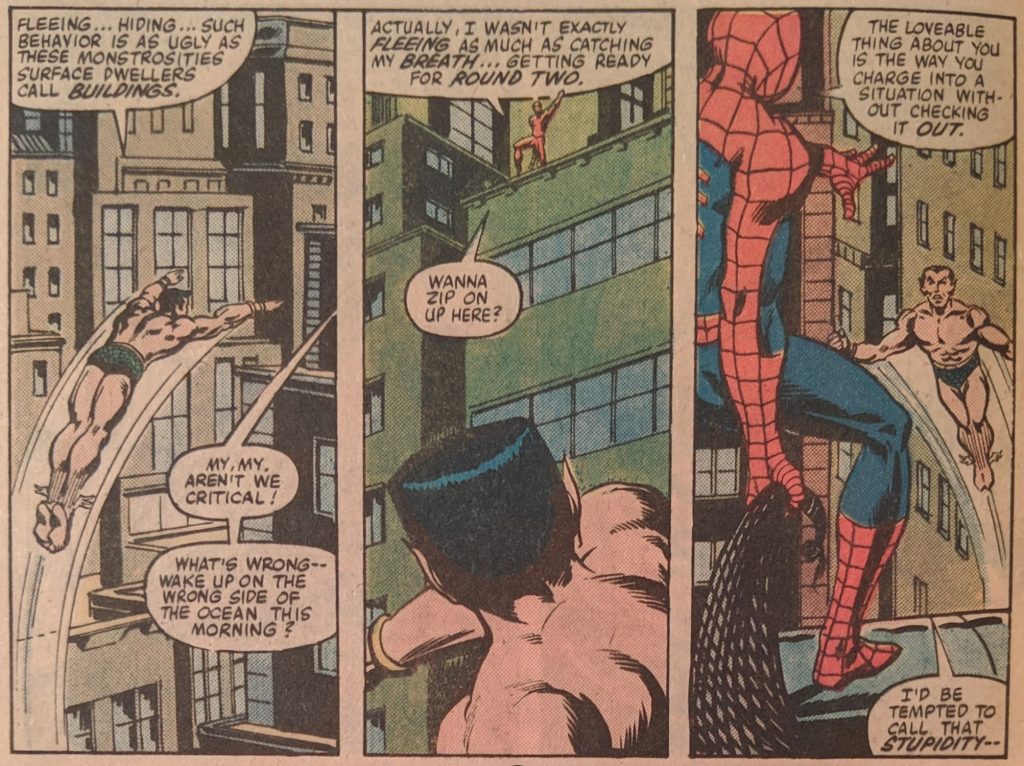 "–if you weren't so noble," he says as he tosses a web net over Namor. Spidey tries to get him to just talk it out, like last time, but it's not gonna work here. Then their fight smashes through a water tower, which only makes Namor stronger. The evil FF watch from nearby, and The Wizard sez he has a new gizmo that will take care of both heroes. So they go over and introduce themselves, and we finally see the mystery woman:
Then The Wizard hits our heroes with his new thingie, and… they get surrounded by a pink glow. Lyra says when they've recovered, they'll wish they were dead. I guess we'll have to see what that means, and what any of this has to do with Peter's neighbor, next issue.