Over in Spectacular, Roger Stern, the best Spidey writer since Stan Lee, is currently in the driver's seat, but the penciling job has been kind of a revolving door since he got here. This month, he's joined by the legend Mike Zeck & Bruce Patterson to break The Cobra out of jail on Ryker's Island. I first encountered The Cobra fighting Captain America as a kid, and I would later read a Stern story in Amazing featuring Cobra & Mr. Hyde (We'll get to that elsewhere), so I wasn't sure who's he was. You know, most villains only fight one dude. I was more than a little shocked to find out recently that Cobra & Mr. Hyde both started out as Thor villains. They really get around. But this is the first time Spidey and The Cobra cross paths. Anyway, yeah, the issue opens with a prison break. Cobra, whose gimmick is he can slither through the tiniest of spaces, has been working for months to pry open a grate in his cell, and now, with just a corner up, there's plenty of room for him to bust out. On the way, he passes Mr. Hyde's cell. His old partner begs him for help, but Cobra bails on him.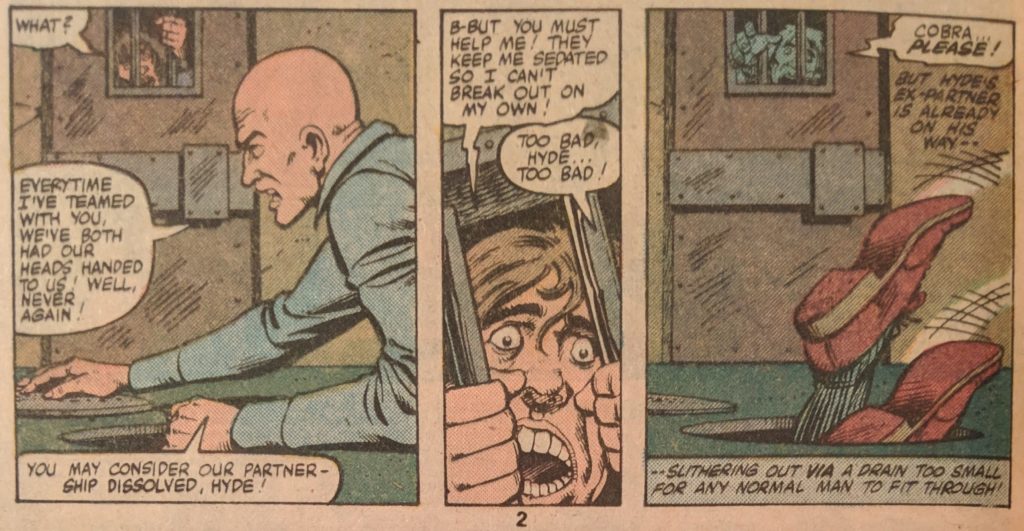 I'm sure that won't come back to haunt him or anything. The next day, Spidey is swinging to ESU, feeling bad about abandoning Deb Whitman in ASM 207. As he should! He pops in to see her on his way to class and she's as forgiving as ever.

Poor Deb Whitman. Then Pete happens upon Steve Hopkins and Phil Chang up to some Komedy Business.

It's his boss at the Globe, the aforementioned Barney Bushkin, wanting pictures of the escaped Cobra. He even offers to throw in a bonus. But that will have to wait, as Peter has to go break in some freshmen in his job as a teaching assistant.

This was a cool thing for Spider-Man, really getting to use his love of science in his daily life. He switches to his superheroing gear to swing around looking for Cobra. He stops some petty crimes before stumbling on his prey trying to rob a jewelry store. There follows a pretty fun fight with a lot of back & forth as their two very different power sets bounce off each other.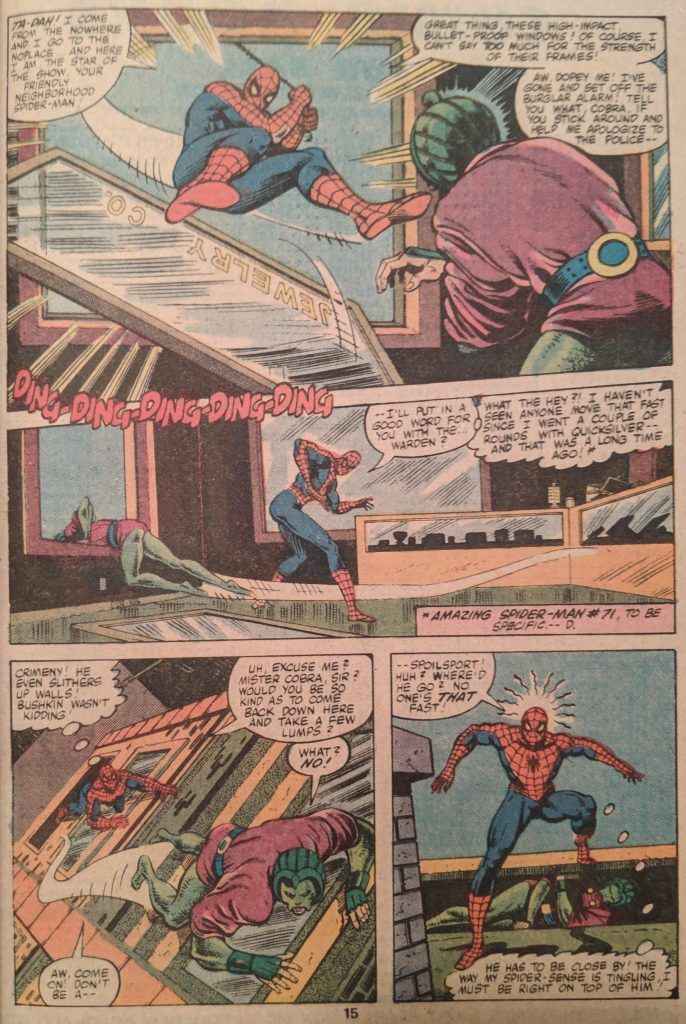 Spidey's freaked out by Cobra's powers, and Cobra's shocked by Spider-Man's strength and speed as they chase each other around for awhile. Then Cobra deploys Spider-Man's most dangerous foe: gas.
Things are going ok until Spider-Man gets some poison darts to the chest just as the cops show up and start indiscriminately shooting at both he and the Cobra. They even toss a net over Spider-Man. But all that does is make him mad, enough to shake off the drug, web Cobra's foot and reel him in for the knockout.
He delivers the unconscious snake man to the cops below, including the ever-put out Lt. Keating, only for Cobra to knock out 2 cops and escape one page later.
Stern has a great voice for Spider-Man. His banter is goofy and obnoxious. It really does come off as someone trying to drive his enemies crazy. Wein and Wolfman both wrote a Spider-Man that felt kind of mean and haughty to me, but Stern's is pretty entertaining.