It's 1980 now. Peter Parker is still in grad school, currently between girlfriends, sort-of-not-really-dating Deb Whitman, and most dramatically different from last block, working for The Daily Bugle's main competitor, The Daily Globe! Crazy, right? We'll see how that happened later. The great Denny O'Neil begins his tenure as writer of The Amazing Spider-Man with this issue. O'Neil played a big role in saving Batman from camp in the 60s, did some famous issues of Green Lantern and edited Frank Miller's famous Daredevil, among many other achievements, but his Spider-Man run isn't that famous. I didn't even know he had one until I started buying up all these things on eBay. We shall discover it together. Unless you're already familiar, dear reader, how could I know? Ever-present Jim Mooney and Pablo Marcos on the art chores for this issue.
The first page of this story feels more like page 3 or 4, with Mesmero, onetime X-Men villain, on stage in a theater making a hypnotized man do embarrassing things.
One of the bits makes the curtain catch on fire, and Peter slips away to try to stop it. Mesmero notices the web hit the curtain, and announces to the assembled that he has a profitable offer for Spider-Man. Peter then unceremoniously dumps Deb into a bus so he can go look into it.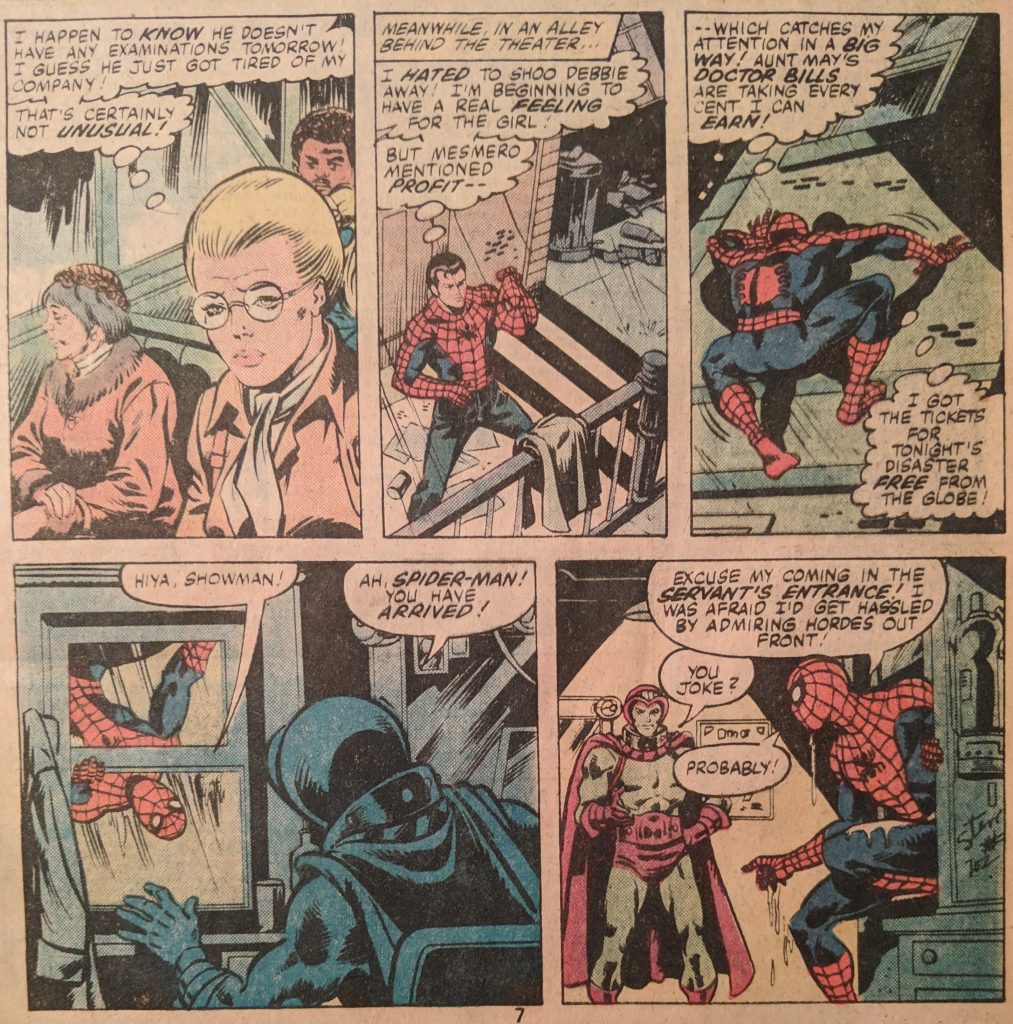 Poor Deb Whitman can never catch a break with Peter. What's up with that random dude? Feel like I'm missing out on a joke. Anyway, Mesmero wants to pay Spidey $400 a week to do 15 minutes in his act. Spider-Man seems to know Mesmero used to bother the X-Men, but figures he's not hurting anyone now, so he'll think about it. Mesmero gets a bad review in The Daily Globe, though, so he decides to kill the reviewer. Sure, that's fair. Next day, Pete sees said reviewer marching out the door looking hypnotized, and is told he said something about going to the Brooklyn Bridge, so Spider-Man swings into action. Meanwhile, JJJ, who recently went a little insane, bursts into The Daily Bugle and just… takes back over. He says "no punk like Jonas Harrow can keep J. Jonah Jameson out of action!" making himself sound even crazier, but everyone just goes with it, because everyone working on the book is clearly tired of this subplot (We'll see this later, too). That brief cutaway gave Spider-Man time to get to the bridge, where the theater critic has covered himself in heavy chains and jumps off.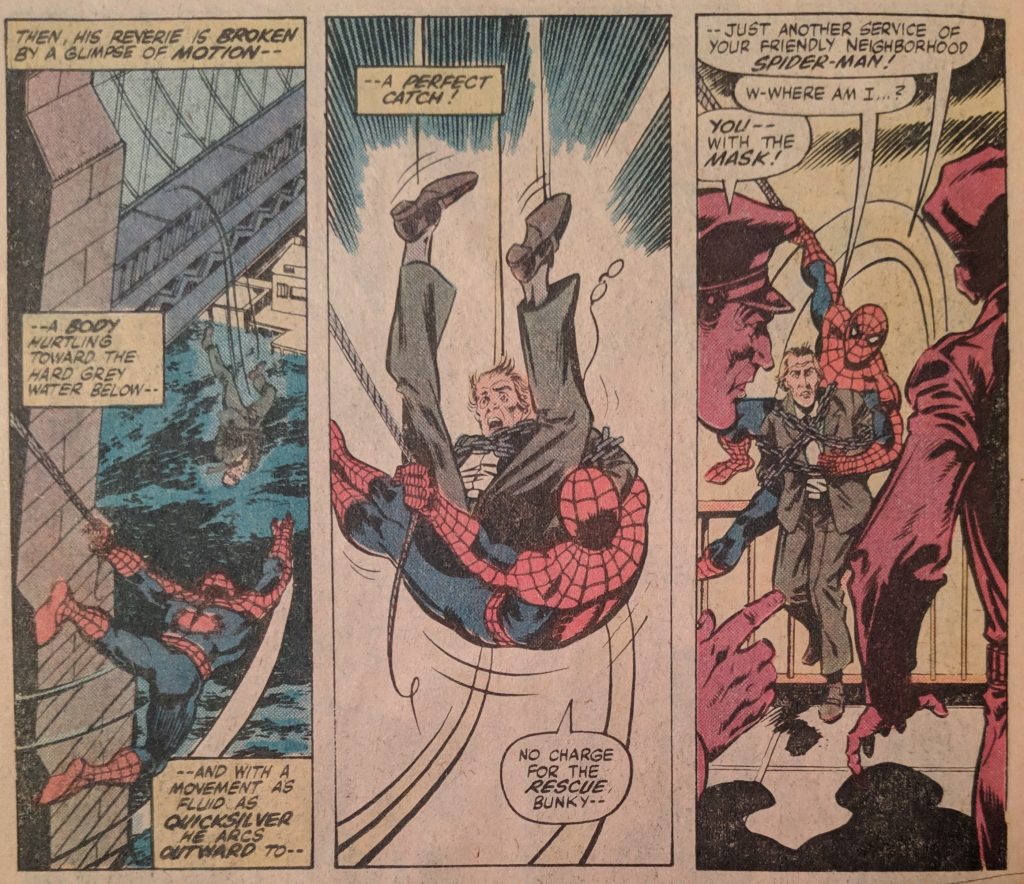 Hilariously, the cops complain that they could have talked him down. The critic is grateful, though, and rewards Spider-Man with 2 tickets to A Chorusline. Peter makes a date with Deb to go see it, while Mesmero just gets more angry about all the negative reviews he's been getting.
And now that Spider-Man stopped the one critic from killing himself, he's been added to the hit list. Having just seen a dude try to kill himself on Mesmero's orders, Spider-Man is weirdly nonchalant as he shows up for their meeting later. Mesmero gets the drop on him with some electrified money (wut), and then ties him up to kill him. This leaves poor Deb Whitman stood up for their date. Her whole thing is such a weird sob story. Anyway, now for Mesmero's Revenge, which is really convoluted. He's hypnotized all the critics who hated him to come watch as he makes Spider-Man balance on a pole and juggle explosives over a floor covered in gas.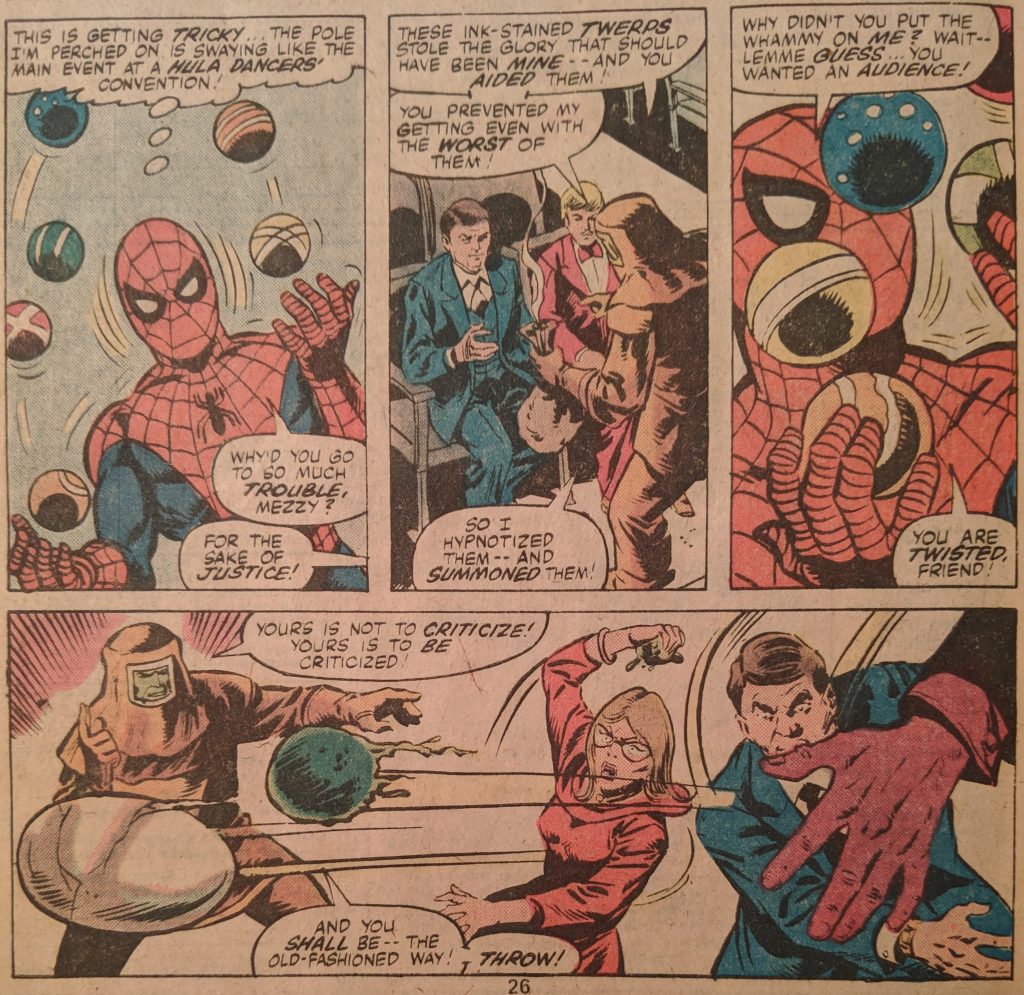 Spider-Man is a pro, though, so he simply tosses the explosives into the roof, webs up Mesmero's weapon, and knocks all the critics to safety. Then it's a small matter to knock out his enemy and that's that.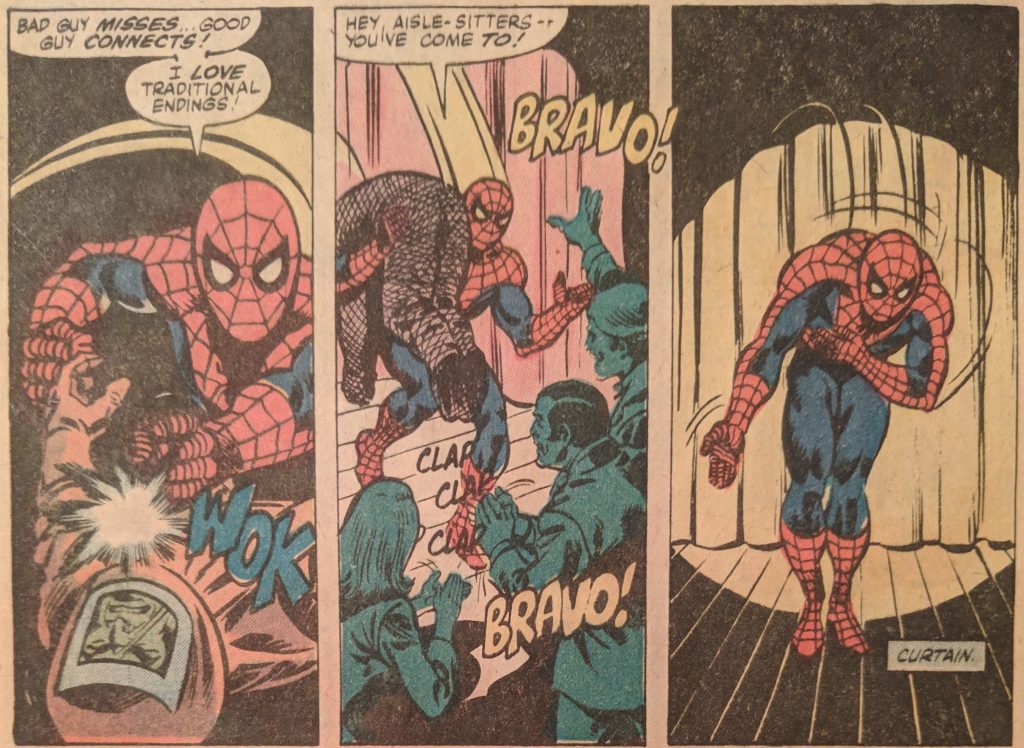 Wacky one, this. Strange way for O'Neil to get going. As he was the editor before Marv Wolfman abruptly quit, I have come to suspect he took this job because somebody had to in a hurry, so maybe he was just cranking something out here. We'll see.