That cover is a pretty clear nod to the cover of ASM 28. Keith Pollard and Mike Esposito are back for this one. We get rolling with the reason Electro was hired to blow up the power station last issue: some goons are using the blackout to steal John Jameson. He's being kept in cryogenic stasis because no one knows how to make him stop being a werewolf (Has that come up on the blog yet? If not, this is a funny sentence), but someone stolen his tube! Meanwhile, Peter has gone with Betty to see Aunt May at the hospital, and acts like it might be the last time he ever sees her for no discernible reason.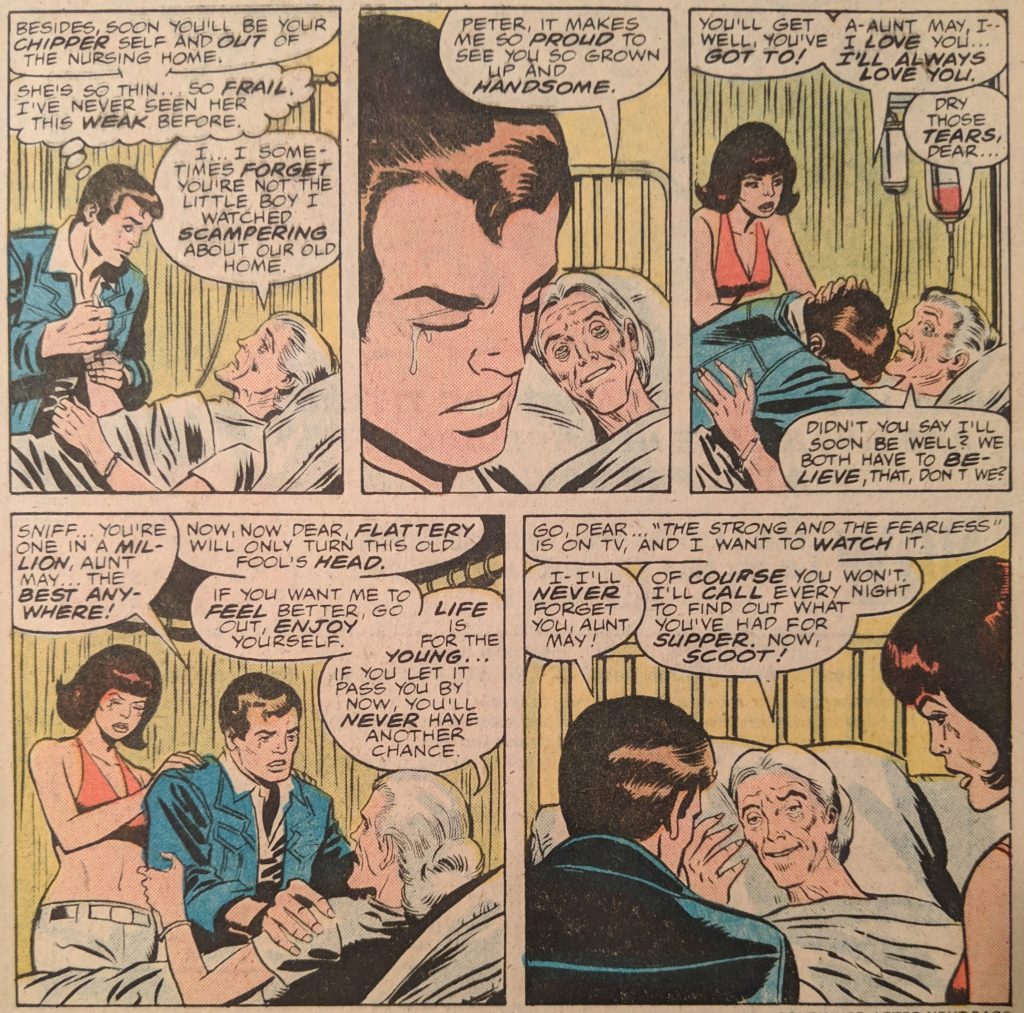 As Pete & Betty leave the hospital, she gets an idea to cheer him up, and then we check out Jigsaw, whose own goons have just called him a coward.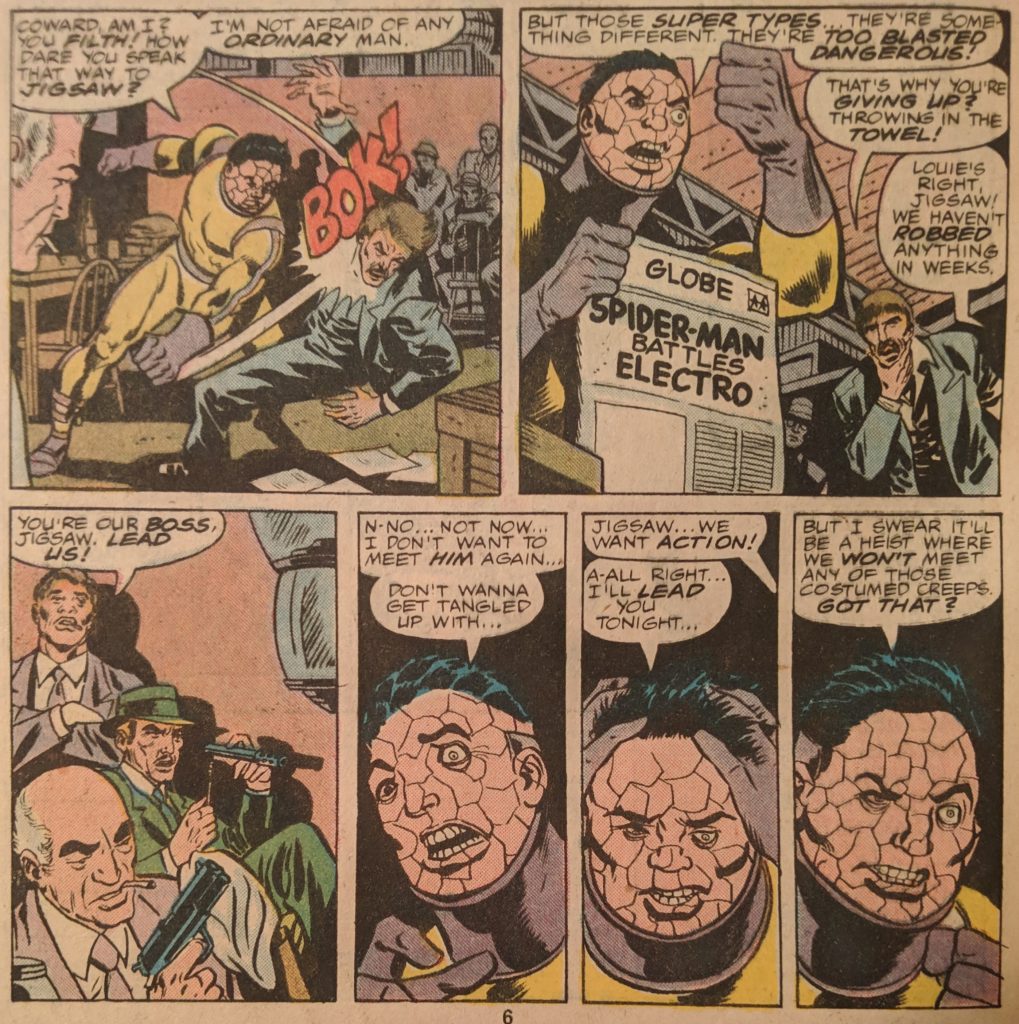 Aaaaalright. Turns out, Betty has come up with the idea of going on a midnight cruise with Harry, Liz, Flash and Sha-Shan. Unbeknownst to her, Liz tipped MJ off that they'd all be there, hoping to see her and Peter get back together, but MJ shows up with the college's star quarterback, so that's gonna be awkward. Over at The Daily Bugle, JJJ has learned his son was stolen, and he knows who's to blame. But Joe Robertson isn't having it.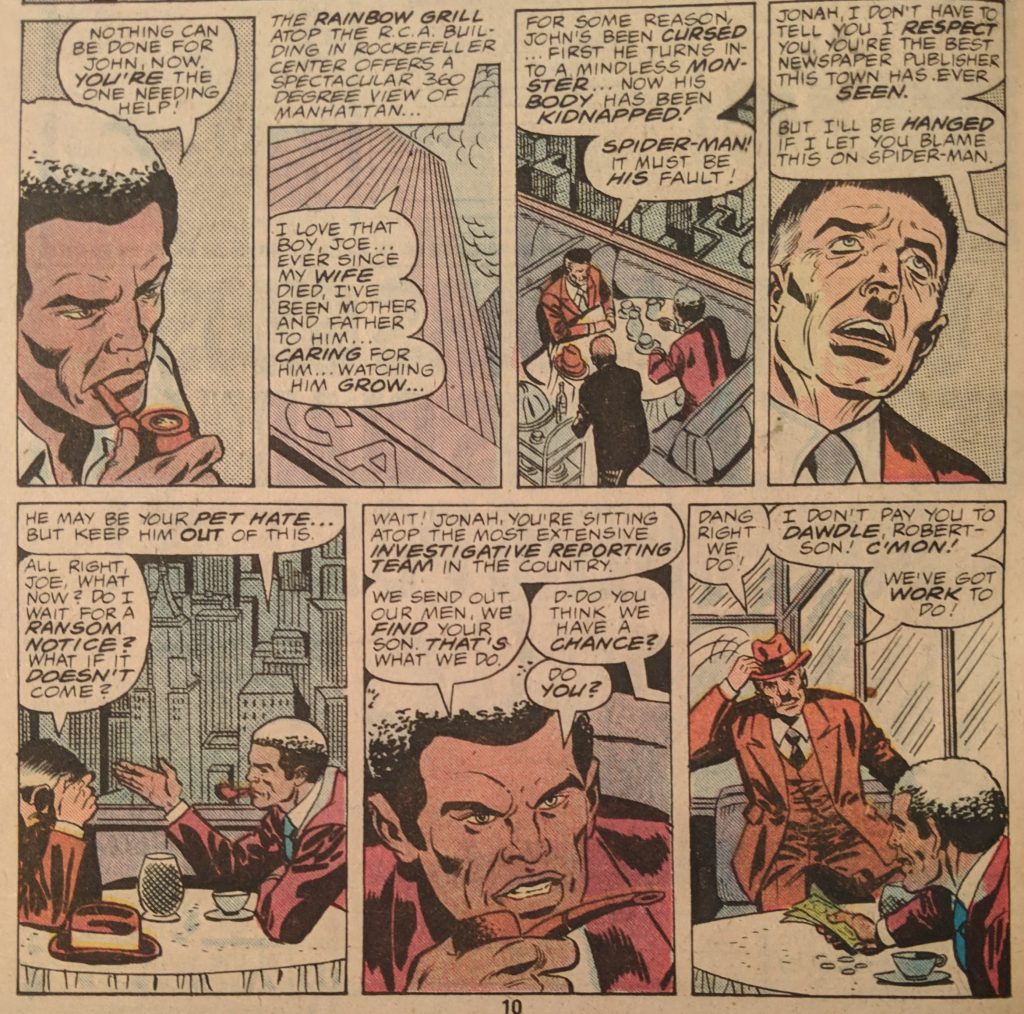 Back at the cruise…

MJ's really got 'em dead to rights here. Jigsaw and his goons approach the cruise to rob it, of course, as Flash & Harry come over to see how awkward things are gonna get between Peter & MJ. Wild awkward, as it turns out. As they part ways, MJ regrets it, but keeps up her party girl image.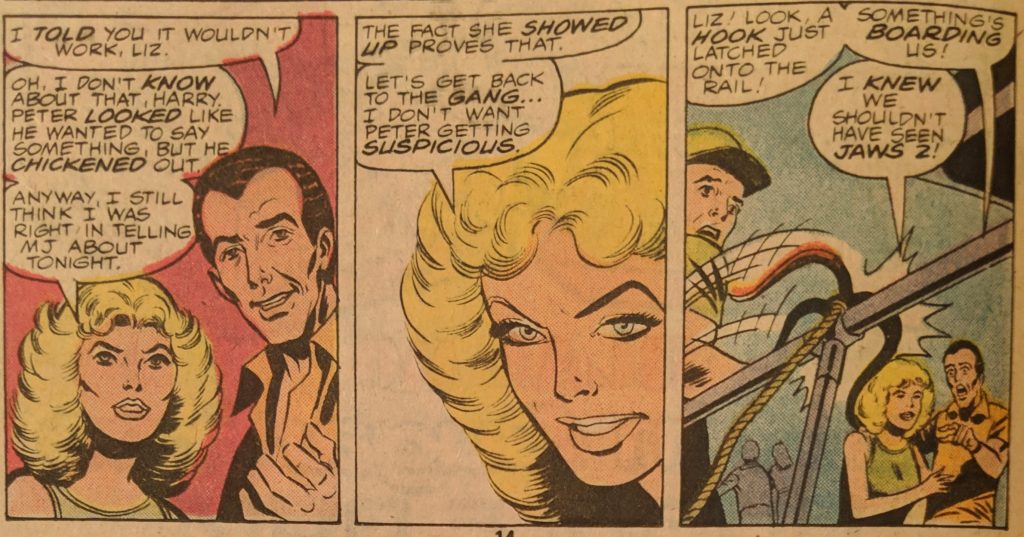 What in the world does that mean, Liz? And why do you look… like that in this panel? Jigsaw and his goons board the boat and more or less do the same riff The Tarantula did in ASM 134 (Have we looked at that yet? I lose track), only more jittery and nervous, so Peter slips away and it's Spidey time.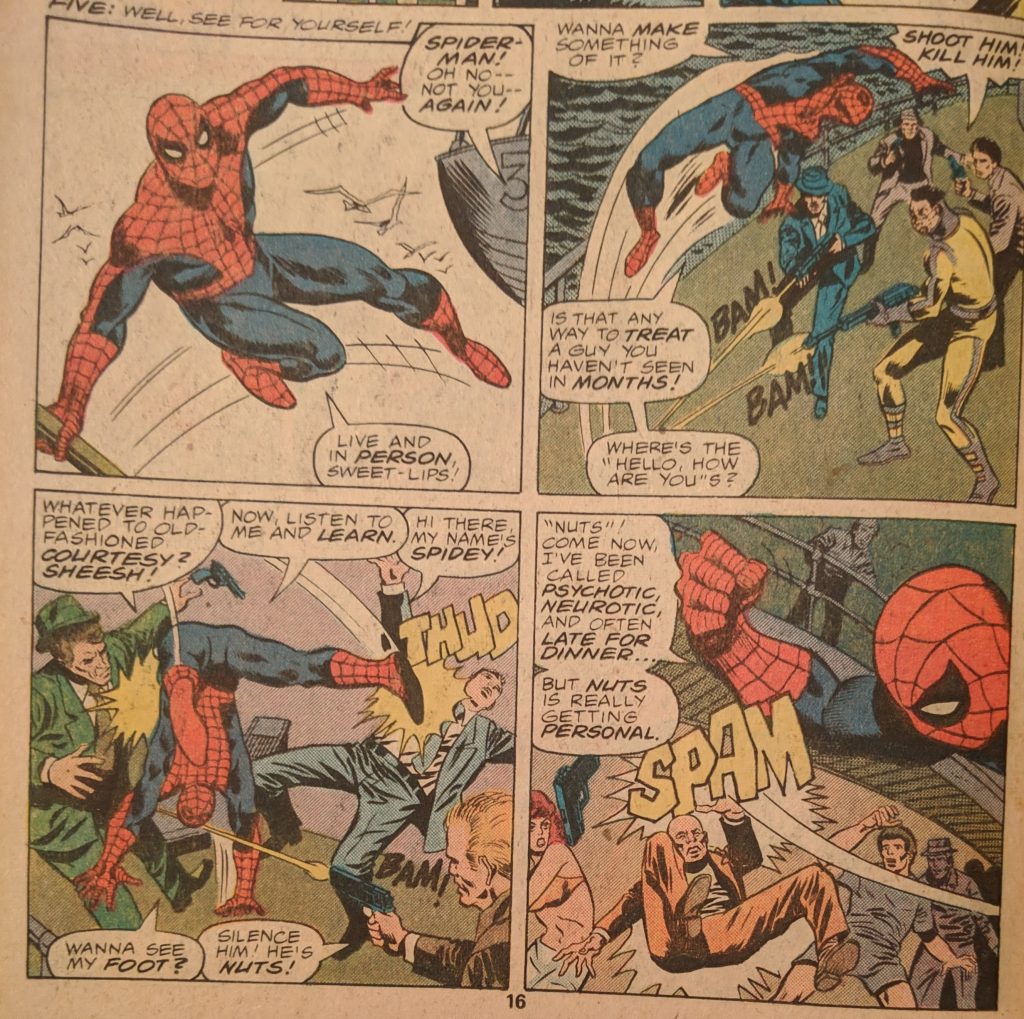 Pollard's Spider-Man feels so much more acrobatic than Andru's. There's obvious shades of Steve Ditko in there (Especially those 2 bottom panels), but it's not an impression. It's good stuff. Jigsaw panics and takes Liz & Harry and some others hostage. Spidey has no choice but to let them go and switch back to Peter. When the ship docks, Peter gets back in his work clothes to look for his friends, while Jigsaw… well…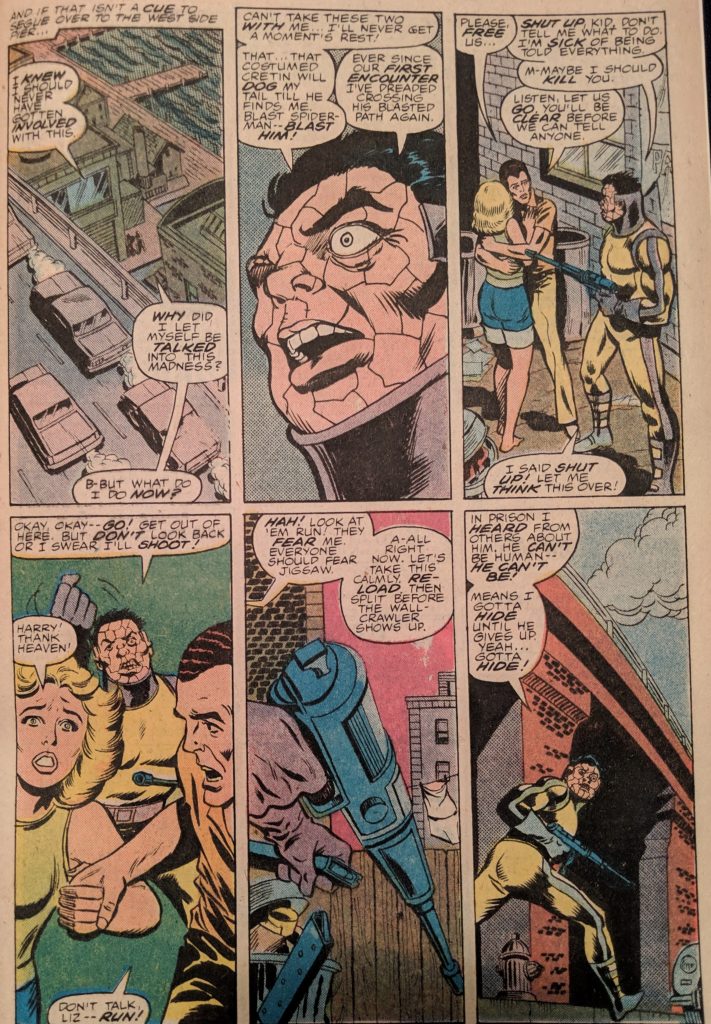 Hard to believe this guy's gonna be The Punisher's main villain. Spidey finds Harry & Liz, revealing he put a tracer on Harry back on the boat, and now that he knows they're safe, he can find Jigsaw. Who is utterly terrified.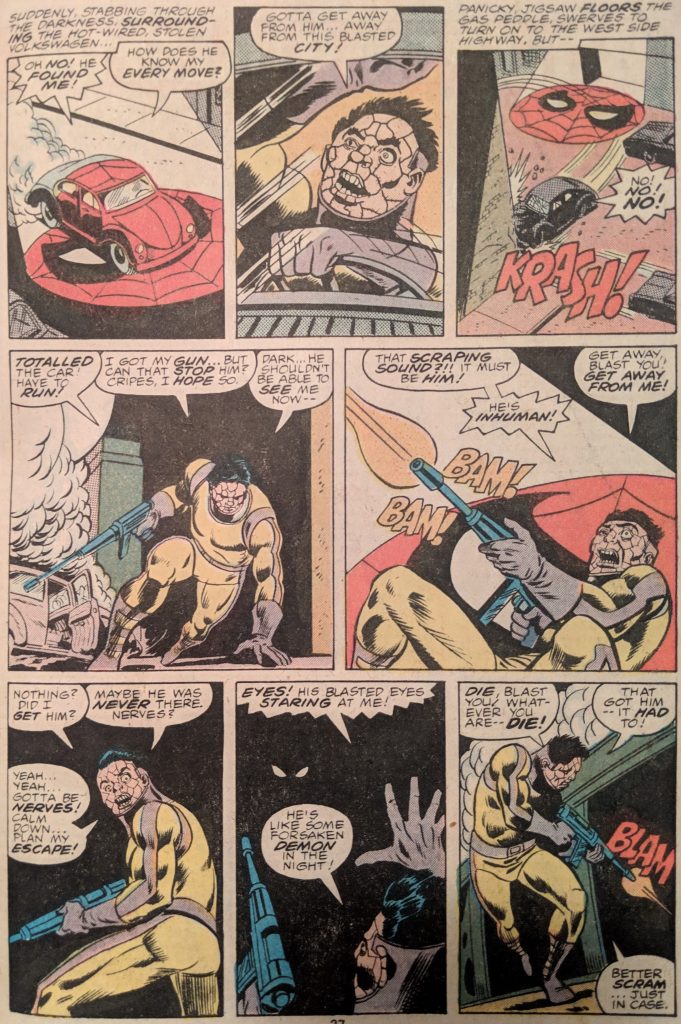 Eventually Spider-Man just hangs in front of him and dares Jigsaw to shoot him in the face, and Jigsaw can't do it. Spidey webs him up and leaves him for the cops, and that's our show. And now, a word from future comics writer Kurt Busiek…


17 years or so from the publication of this issue, Busiek will be writing a monthly comic called Untold Tales of Spider-Man. This is a pretty crazy way to begin his relationship with Marvel.