That's right, it's the infamous issue where Spidey meets the cast of SNL, courtesy of Chris Claremont, Bob Hall & Marie Severin. If you're thinking this has to be a pretty goofy one, guess what, you're right. Peter and MJ have tickets to the show (Their relationship woes in ASM are not mentioned),  where Jim Belushi has gotten a ring in the mail.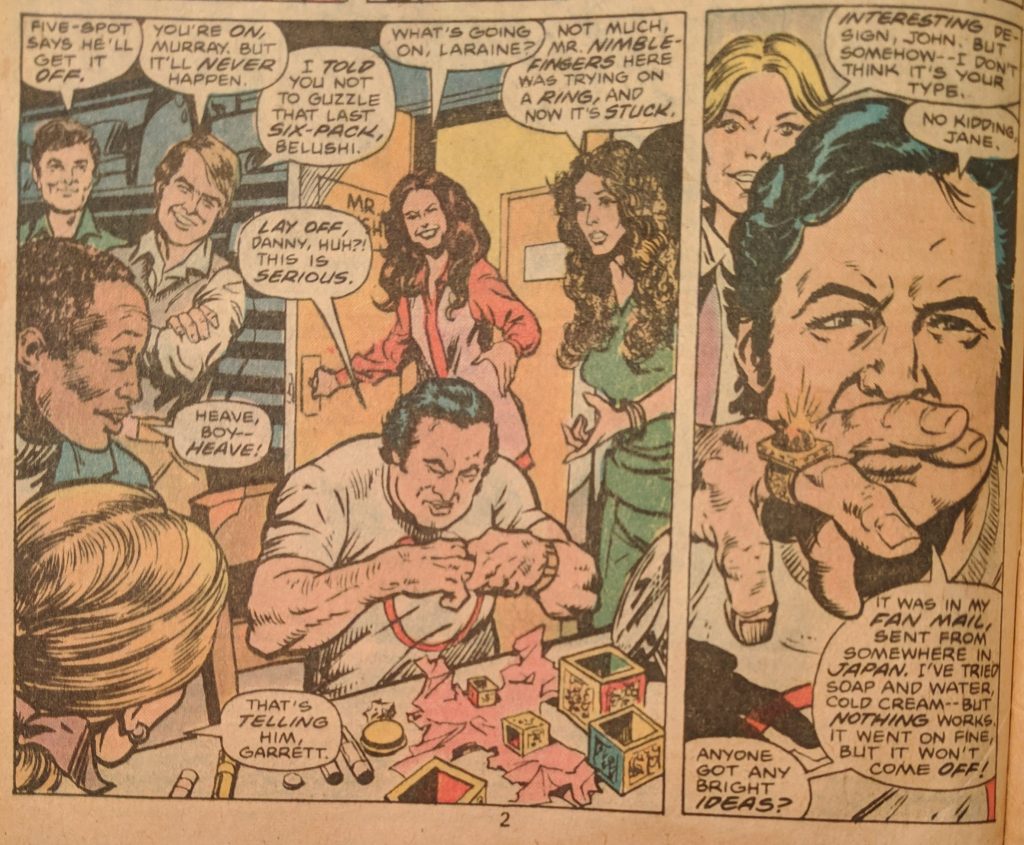 The cast has to go on without getting the ring off Belushi's hand, and they take the stage past an usher who's obviously not just an usher. Once they're gone…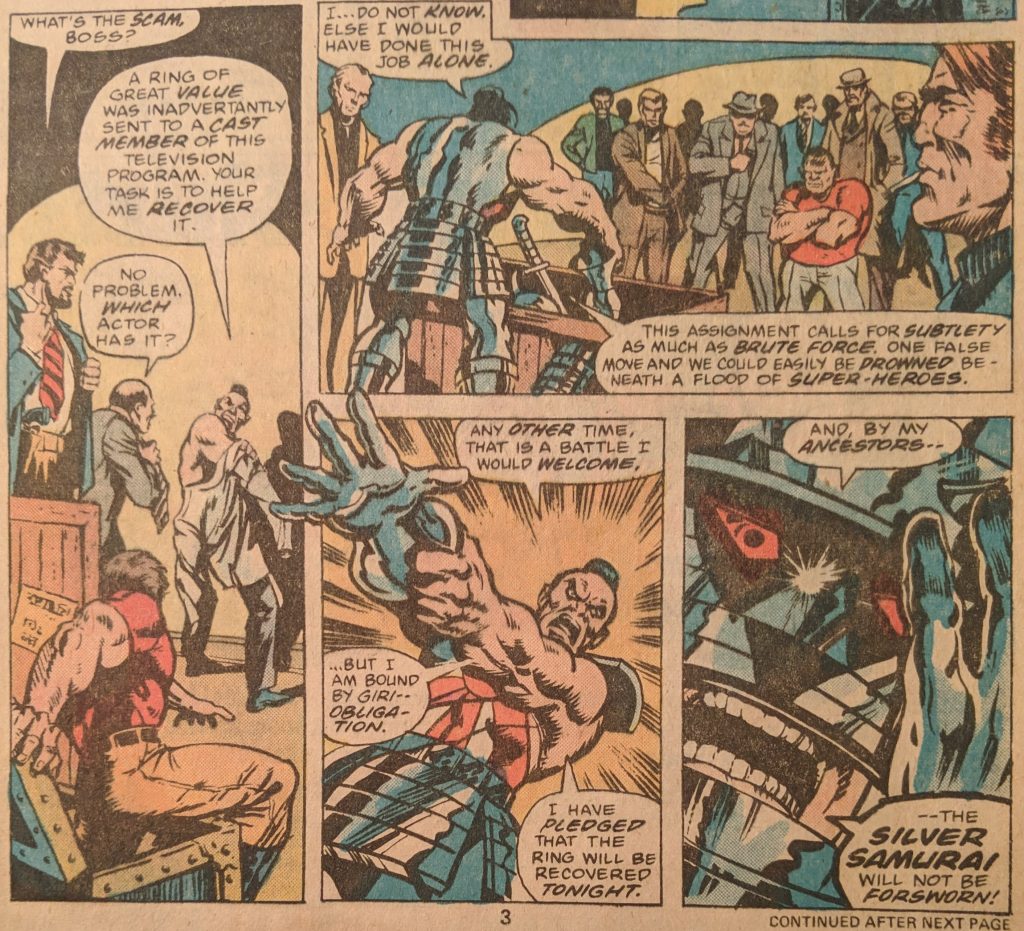 Well, then. The show begins, with host Stan Lee and musical guest Rick Jones (Of course!). The creative team tucks Statler & Waldorf from the Muppet Show into the crowd just in case this wasn't meta enough, and then Stan does his monologue.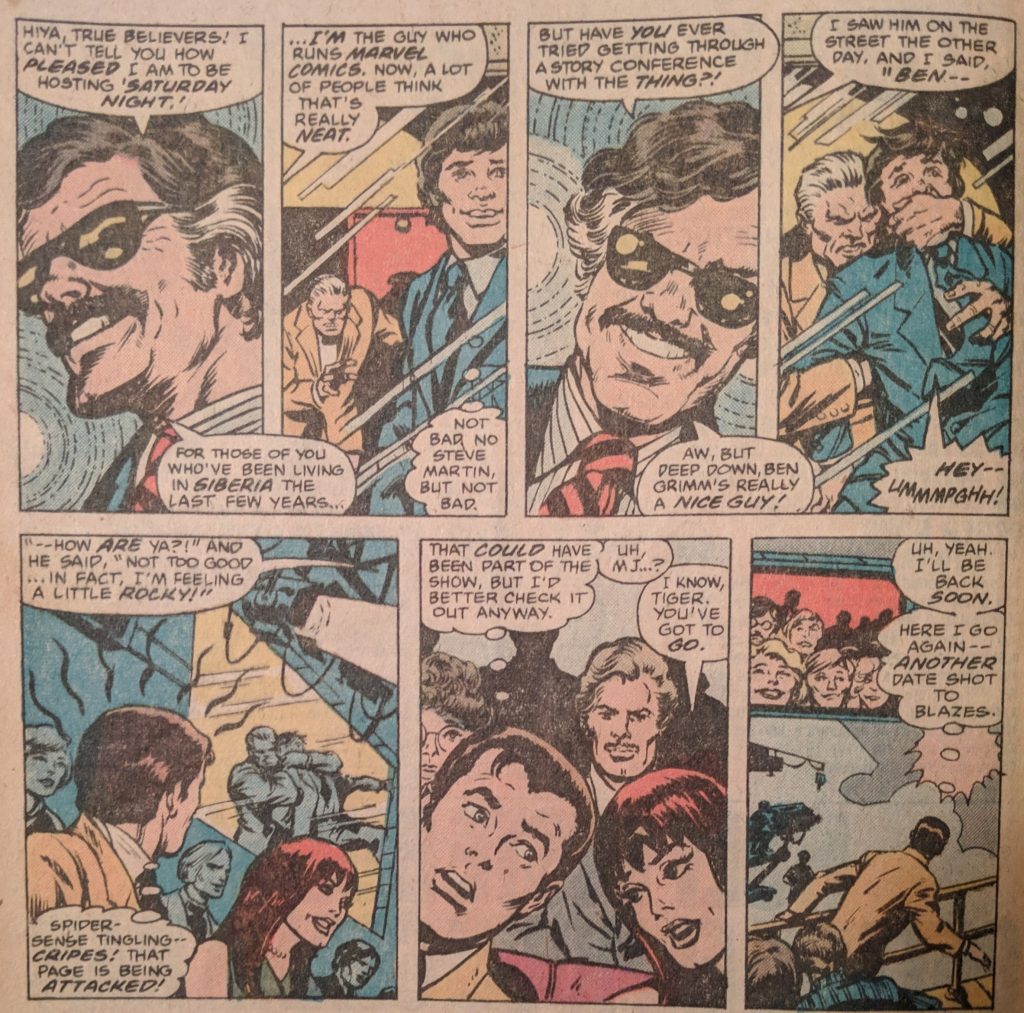 Claremont's idea of what a Lee SNL monologue would look like feels spot on. But let's talk about MJ there. If you know she will reveal she has always known Peter's secret several years from now, this panel makes sense. And that's the only way it makes sense. So, in its time, it makes no sense. Anyway, Peter slips away, gets into his work clothes, and tries to figure out what's going on. Backstage, Bill Murray is trying to deliver a prop hammer to Garret Morris when he stumbles on The Silver Samurai and his goons looking for the ring…

…and takes that goon's place to learn what they're up to. Bill Murray: Action Hero! Soon, Gilda Radner & Jane Curtain suddenly fall through the floor while doing Weekend Update, where they find The Samurai waiting for them, but also: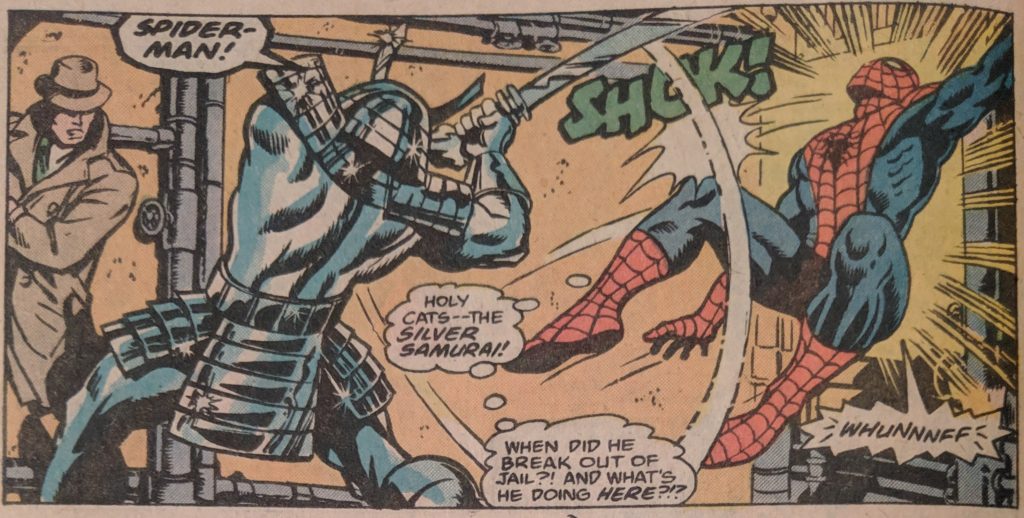 Spidey runs off The Samurai, Murray fills him & the ladies in on what's happening, and Spidey webs Gilda & Jane back up onstage to keep the show going. Meanwhile, Laraine Newman is just finishing her Ms. Marvel costume when goons bust in and think she's the real thing.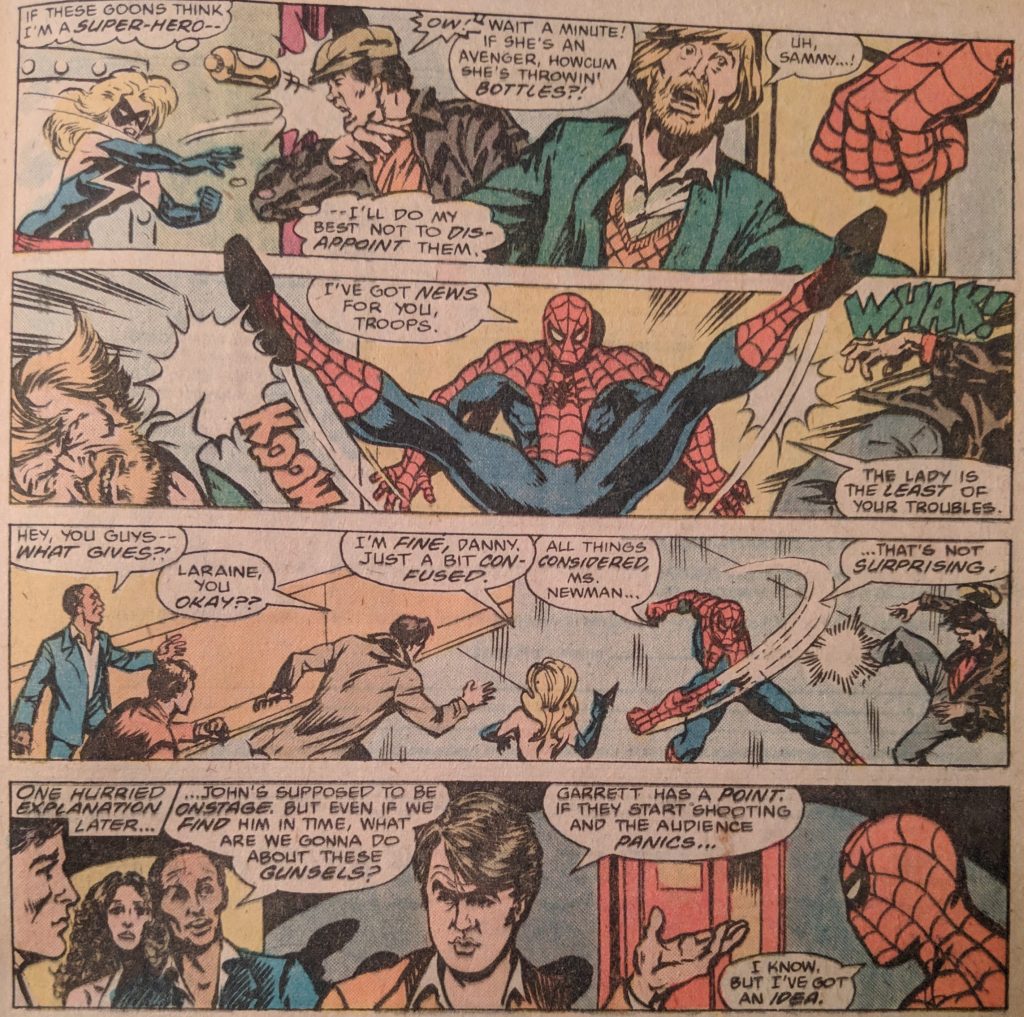 Things just keep getting sillier as Garrett Morris in his Thor costume confuses some goons long enough for Bill Murray & Gilda Radner to hit them with some live wires. Dan Akroyd suggests they all keep dressing up in goofy outfits to keep the goons off guard, and then, inevitably…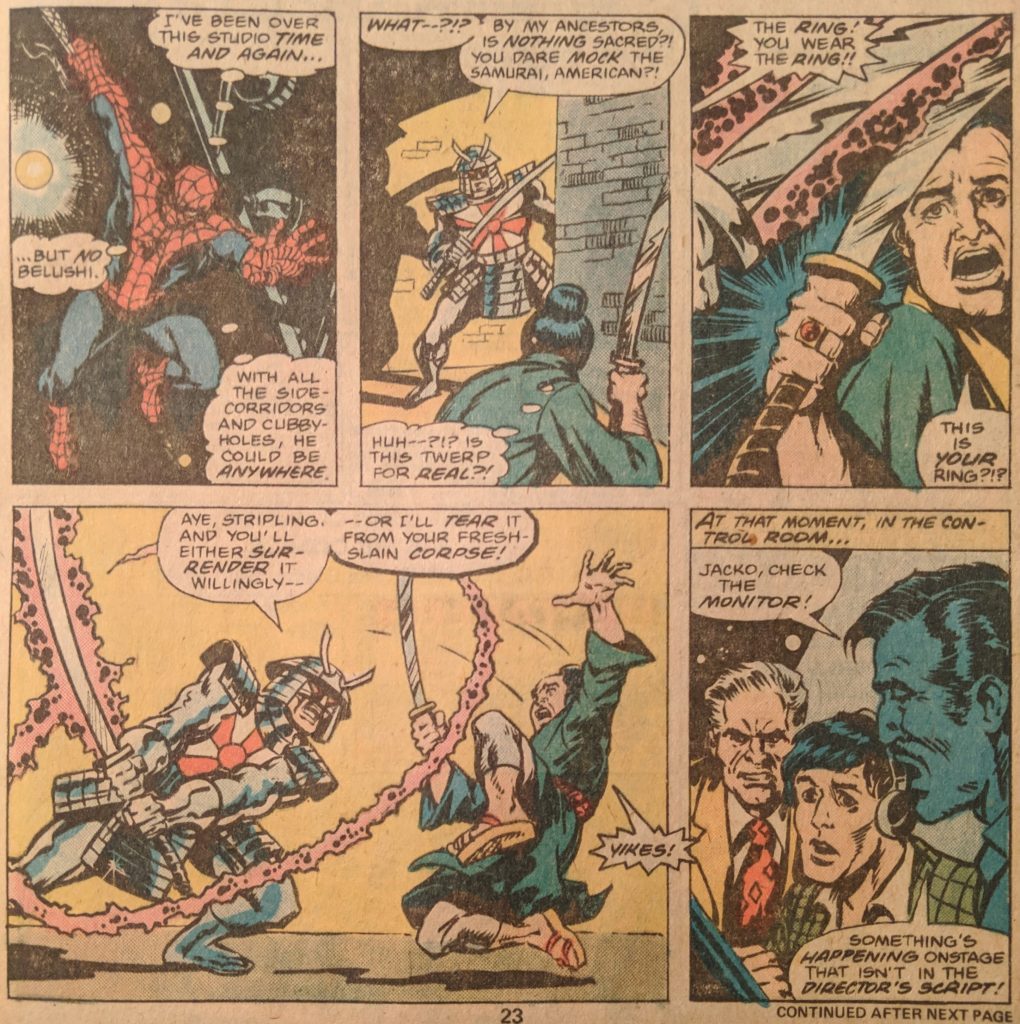 Ludicrously, Belushi's sword helps him fend off Silver Samurai as they fight across the stage on live TV for a few seconds. Then, as Sammy is trying to pull the ring off Belushi's finger, Spidey kicks him in the back of the head, giving him the torque he needs to get the ring loose.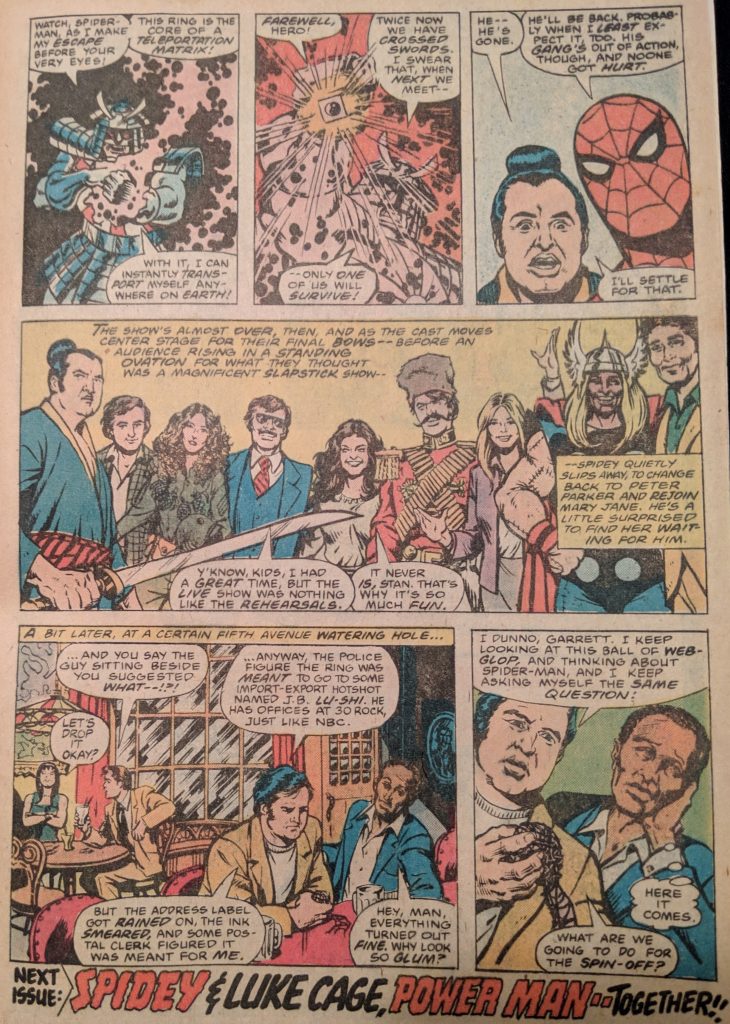 The guy sitting beside MJ identified himself as "Ken Morrow" earlier. Internet just brings up a hockey player. This joke was not for me. Anyway, that's a pretty goofy comic. But would you believe Claremont is actually going somewhere with that ring?