Have we talked about the "Marvel's TV Sensation" thing yet? This banner has been affixed to the covers of the Spidey titles due to the success of a frankly not-so-hot, short-lived, live action TV series. Its only comic characters were Peter Parker, J. Jonah Jameson & Aunt May. Spider-Man wore his belt and 1 webshooter on the outside of his tights. The eyes on his mask looked really weird. He never spoke, much less joked, while fighting. And the series had exactly 0 supervillains in it. Not ideal. The pilot movie is the only thing I've seen, and I saw it several times as a kid. Spidey must face an evil New Age guru who brainwashes his followers. Thrilling stuff. Anyway, that's what that is. This month, Bill Mantlo is joined by the great Mike Zeck on pencils and Bruce Patterson on inks. This is quite early in Zeck's career, though, and it really looks it. You'll see. So, a gangland assassination is taking place on page one, but hidden in the rafters is The Moon Knight…

I mean, that's rough. That is some pretty amateur hour stuff. I initially wanted to pin at least some of it on Patterson, but a thorough investigation makes it pretty clear it's Zeck making all the weird choices. But hey, we all gotta learn, and he eventually became one of the greats, so this is a lesson to us all. Sadly, Moon Knight's daring heroics don't actually manage to stop a goon from machine gunning the guy he was trying to save. Moon Knight takes out the remaining goons, and the Lindey guy tells him The Maggia is onto him, that they know he's a cab driver, then dies. MK is as flippant about the guy dying as he was about trying to save him, then radios his assistant Frenchie to come pick up up in a helicopter. Ok, so, Moon Knight, right? He's Marc Spector, a mercenary who, while dying on a job, pledged himself to the Egyptian moon god in exchange for survival, and now he's this sort of low rent Batman. Except he has another thing: Hes got 3 personalities. In addition to Marc Spector, he's also fancy rich guy Steven Grant and cab driver Jake Lockley. He uses all these personas and their very different lives in his war on crime. Or whatever. Mostly, tho, he's Batman in white. Hey, remember how this was a Spider-Man comic? Well, Spidey crawls in the window of his apartment, exhausted from a night of crime fighting, and hops in the shower.

Peter repaired some damage to his ceiling in TAC 20. Clearly that didn't work out. Mantlo always seems to be trying to find his own way into the stuff Wolfman's doing. Peter and Betty have a run-in with Mrs. Muggins before hopping in a cab to go to the movies, but Peter is thinking about MJ, and Betty is thinking about Ned. This reading is much better than Wolfman's apparent plan to just slap them back together. Anyway, the book very, very briefly takes a look at what Flash Thompson and his girlfriend Sha Shan are doing (Not much) and then what Hector Ayala, aka The White Tiger, who I guess maybe hasn't been on the blog yet, but is also a regular member of the cast, is doing (Not much). Not sure why they wasted a page on that. Then we jump forward in time to Spider-Man out Spider-Manning later that night. He inadvertently swings over Jake Lockley going into a diner. He's trying to find out who the new head of The Maggia is, so he's walking into a trap on purpose. But Spider-Man really is swinging right by, right now, and sees the diner is full of masked goons, so he jumps in.

Moon Knight proceeds to beat the crap out of that guy, but Spidey sees it, and he doesn't know Moon Knight, so he drops down to tell him he wants to question this guy himself.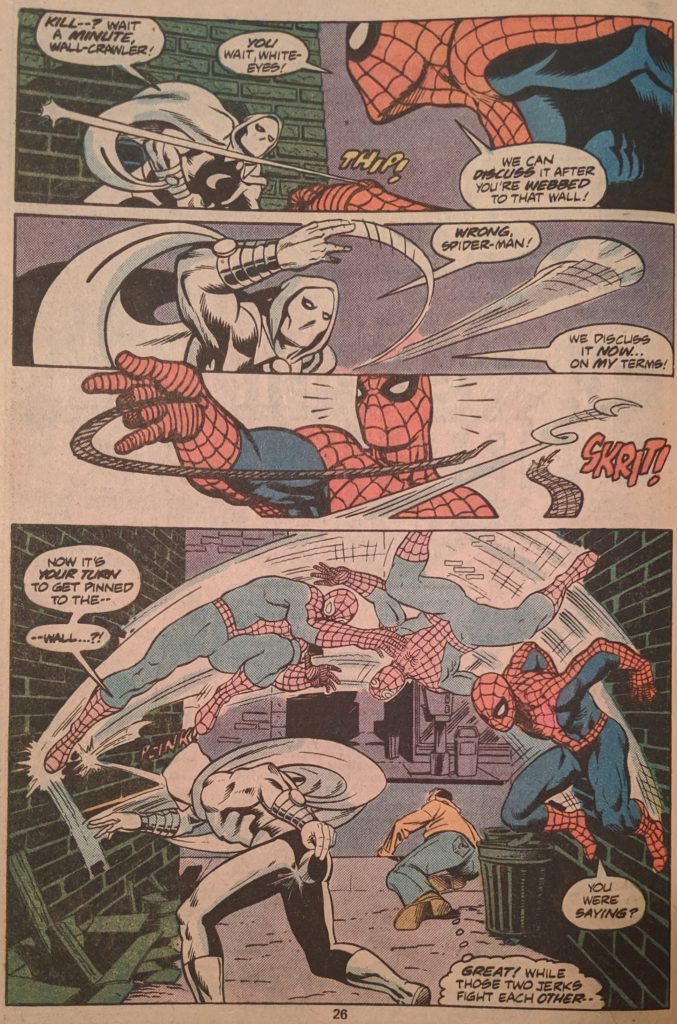 Zeck may be a little green still, but he's doing some fun stuff on this page. The goon makes for a pay phone to tell Maggia boss "Big M" (Ugh) what's going on, but MK pins him to the wall, and then Spider-Man tackles Moon Knight, and it's a big silly mess. And that's when this idiot shows up:

Oh no. come back next time for more with "ze greatest villain on the continent." Man, Europe must have some terrible villains…