It's like someone challenged Wolfman to come up with the worst villains in the world. Two issues in a row! We kick things off with the mysterious woman who came to Peter's apartment last issue revealed as Betty Brant. She didn't really come back from Paris with Ned back during Superman Vs. The Amazing Spider-Man, because that was out of continuity, so she's been gone for a long time.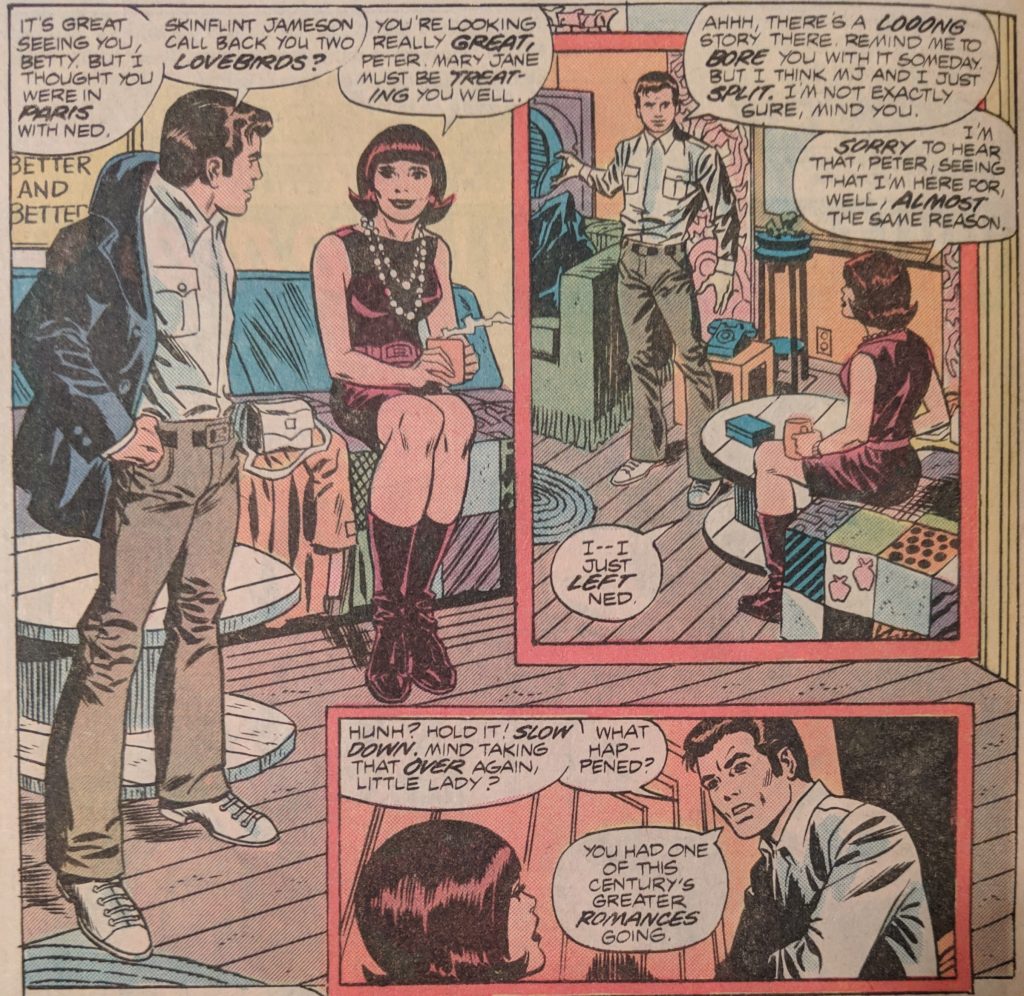 Who has apparently left Ned and wants to get back with Peter.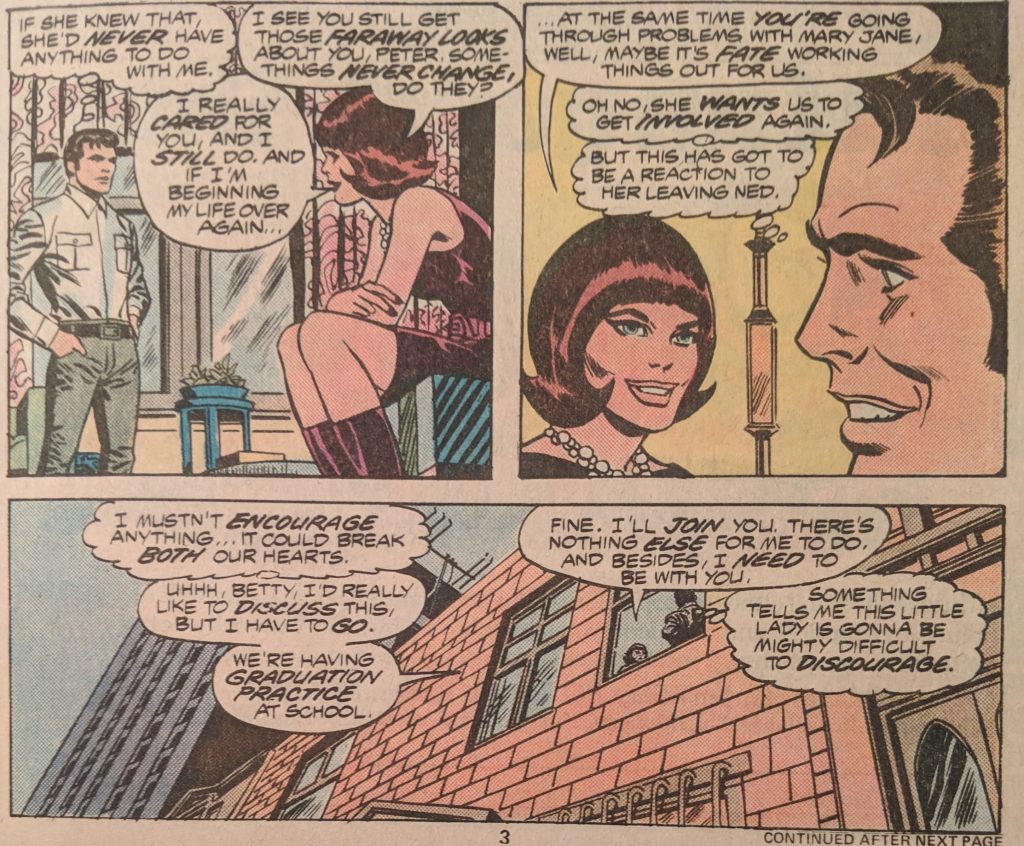 This is… I mean, what? Yesterday you propose to your girl and now this? We cut away to JJJ and his beloved Marla Madison going to see JJJ's son, John, who is in cryogenic stasis since last we saw him, as a doctor says he'll have to stay there "forever." JJJ takes that about as well as you'd expect. We cut away from his threatening the staff to Peter trying on his graduation gear.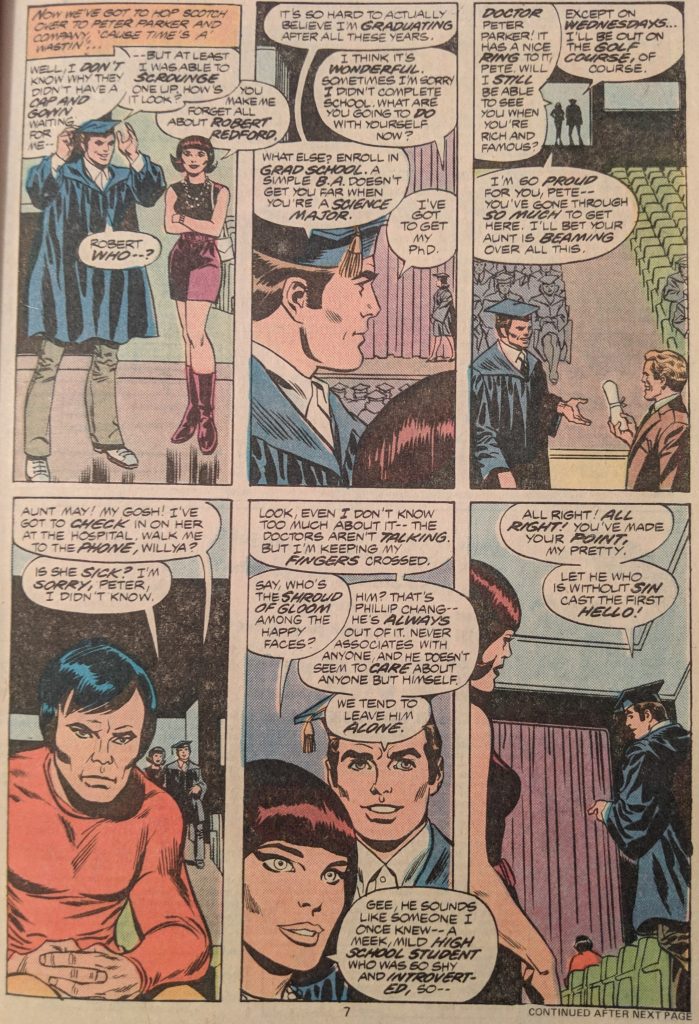 I mean, Peter is waaaaaay too receptive to Betty's advances for a guy who proposed to MJ the day before. This is crazy. Phillip Chang is really on edge, attacking when Peter tries to say hello. He apologizes and runs off, clearly freaked out. Peter makes an excuse that he wants to go see Aunt May to ditch Betty and suits up to follow him. Look at this idiot.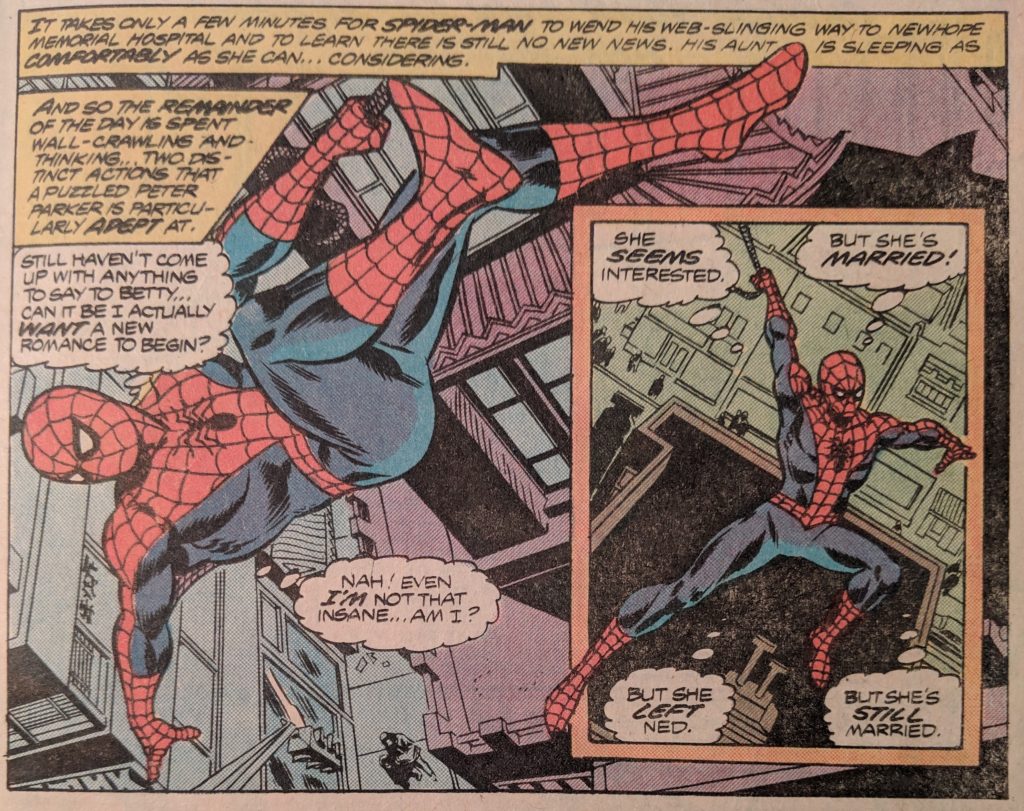 He doesn't find Phil, but he does find a gang trashing an antique store.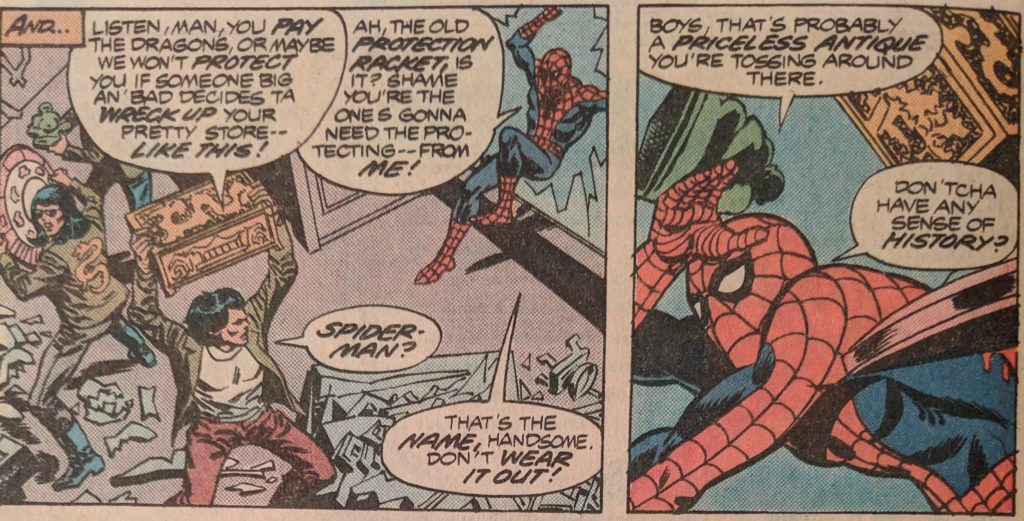 That's quick work for Spider-Man, but when he tells the shop owner to call the cops and leaves, the owner doesn't do anything. Soon, Pete and Betty meet for dinner, at a restaurant where Phil happens to be a waiter.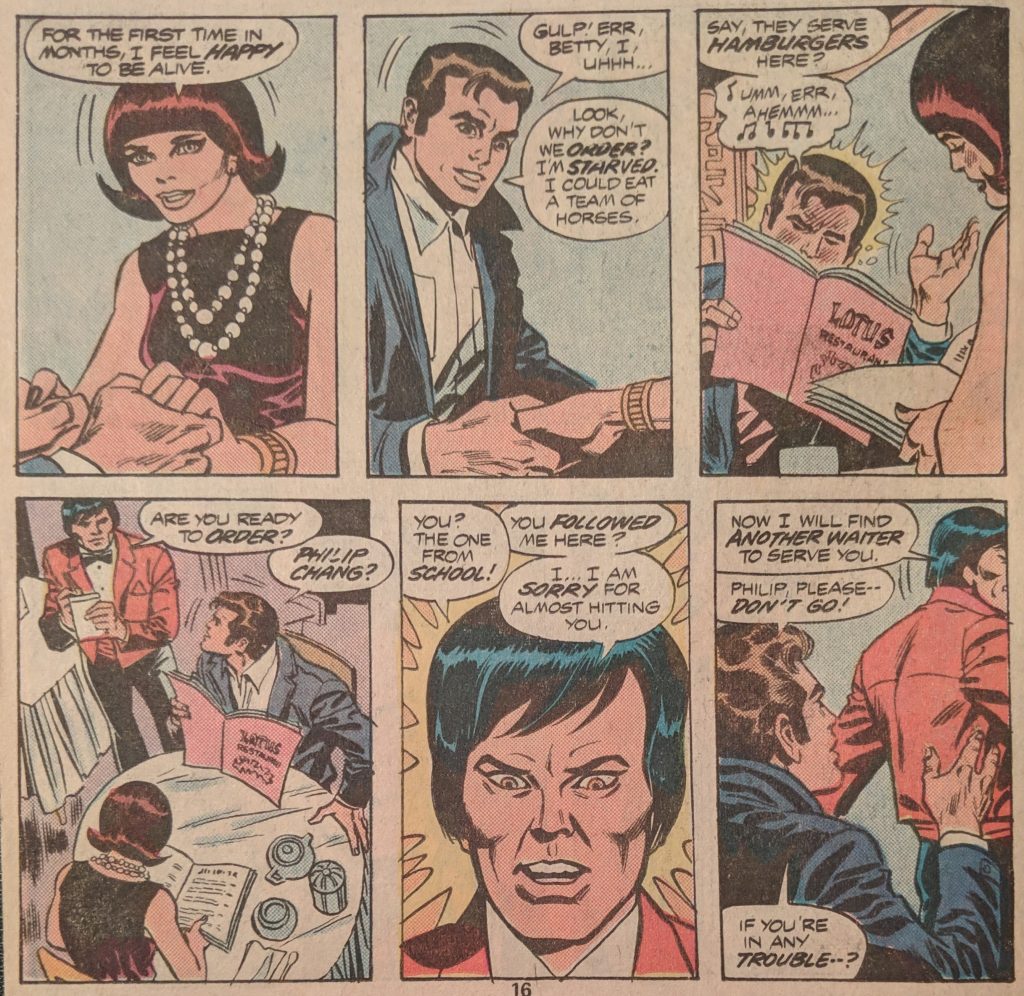 Is it Phillip or Philip? We gotta pick one. This isn't your usual lazy comics coincidence, though, Betty wants Pete to try to befriend him so bad she found out where he works and set this up. She just met this dude for like 3 seconds earlier! Anyway, Peter goes over to try to make friends, but Phil acts like he can't have any friends because he'd endanger anyone around him… and that's when The White Dragon shows up.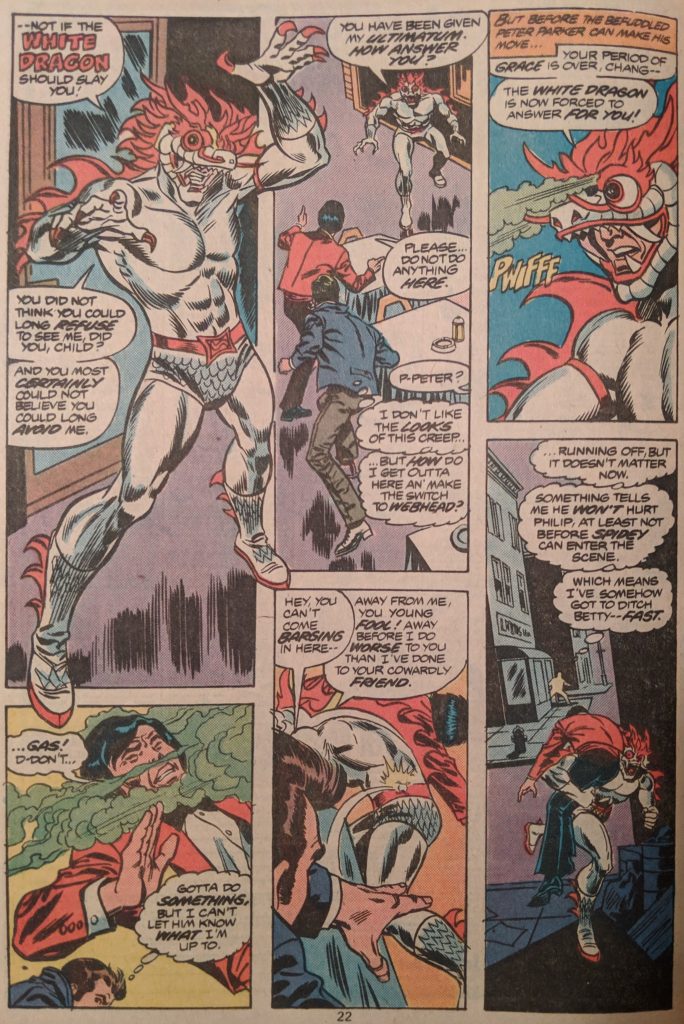 Hoooboy. That is one terrible, terrible costume. Spidey ditches Betty for a 2nd time today and goes after them. At your run of the mill villain hideout, the captive Phil is told he has to pick 1 of 4 dragon gangs White Dragon runs to join, or they'll kill him. Spidey shows up and handles all White Dragon's goons before facing the big doofus himself.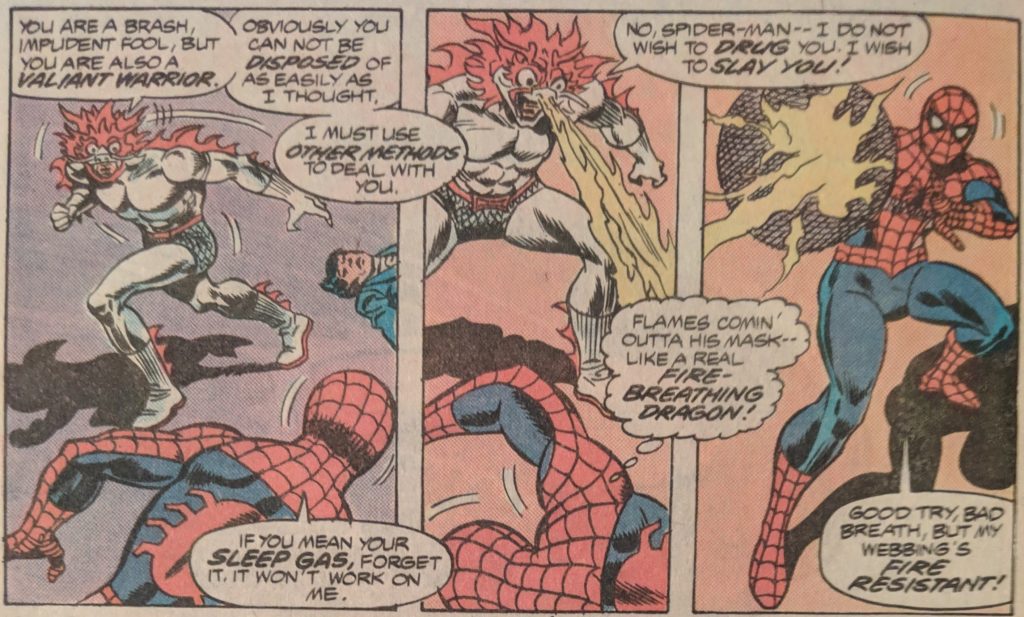 Dragon explicitly says he doesn't want to drug Spidey and then drugs him 2 panels later. He wakes up hanging in chains over a vat of oil. White Dragon says either Phil picks a gang to join or he'll set the oil and fire and Spidey goes in it. Phil still refuses, so…White Dragon sets the oil on fire and Spidey goes in it. Just like it said on the cover! And that's to be continued!
I've been mocking this cover for years. I only got the issue as part of the Great Ebay Hysteria of 2018, but from the moment I saw White Dragon's insane outfit, something like 15 years ago, this has been one of my go-to "look how silly comics used to be" comics. It really lived up to my expectations.