It's another reprint. I can't afford this issue, either. I mean, obviously. My next reprint is ASM 129, but other than that, it's all originals to the end of the volume. Spider-Man moves Gwen's body to a dock below, and then attacks the Goblin with a rage he's never had in his life, and while the Goblin is dismissive at first, he quickly realizes he may have made a mistake.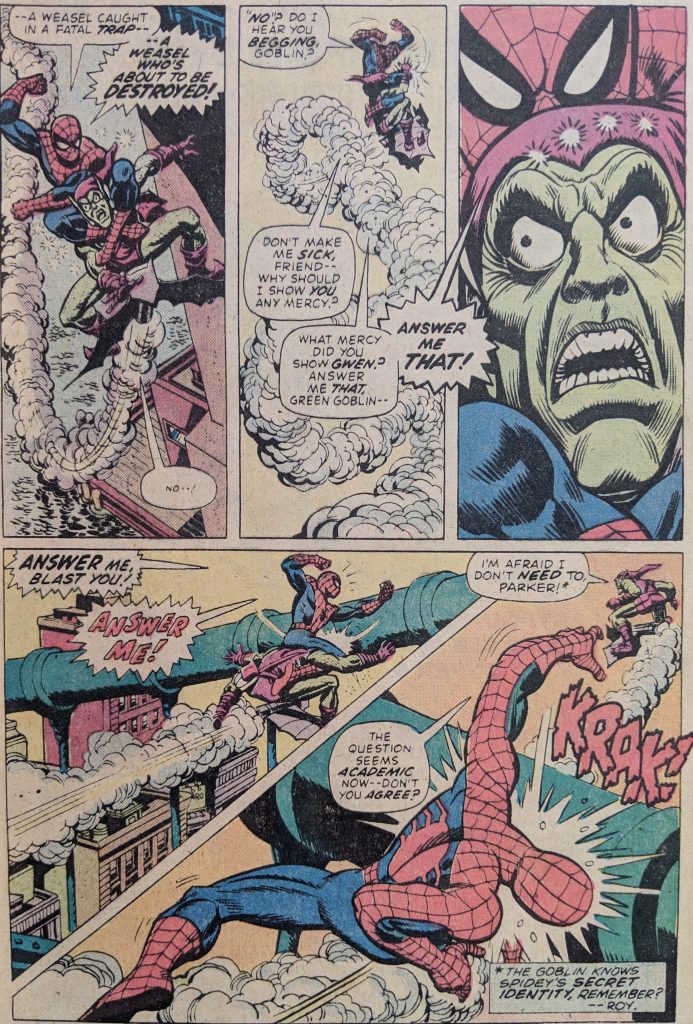 Caught off guard, Spidey's soon plummeting to the water below. He manages to save himself, and finds The Goblin has escaped. Then he notices a crowd forming aground Gwen's body.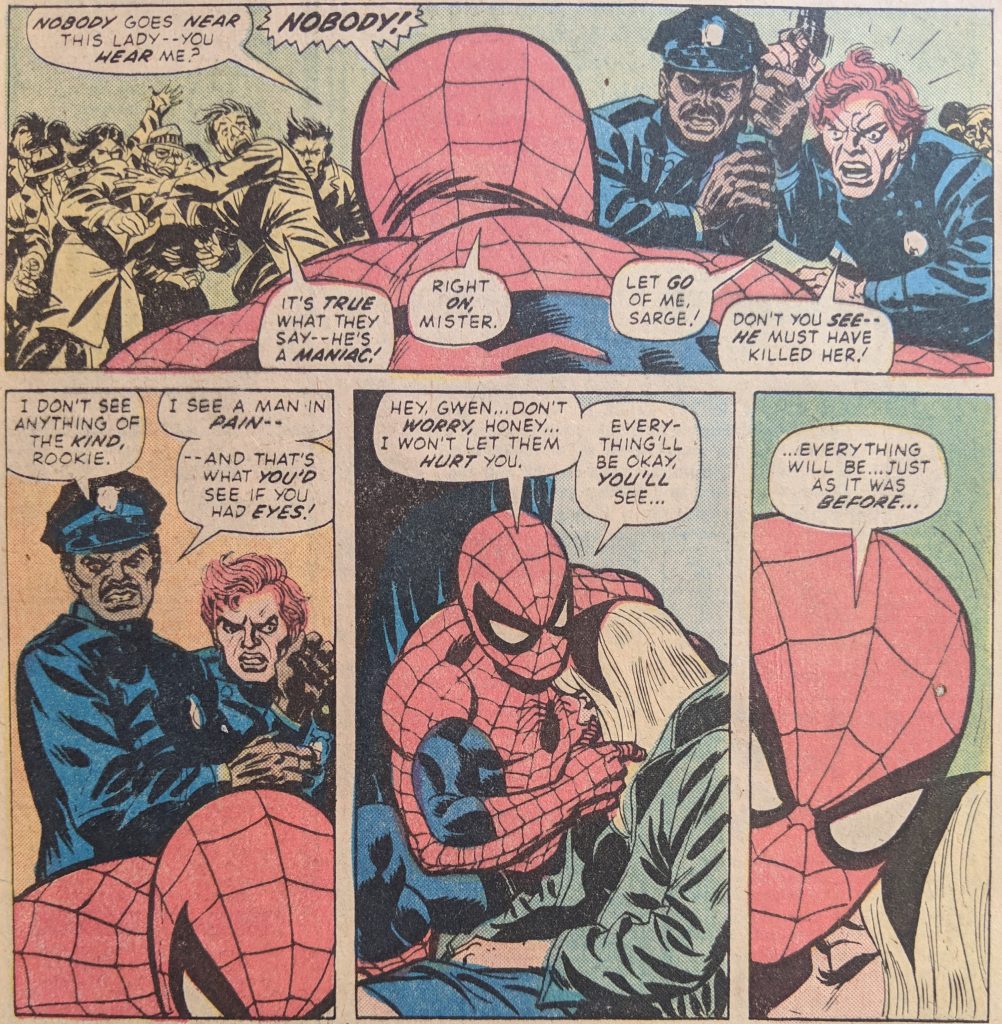 This extremely patient police sergeant keeps his men from moving in even as Spidey says "She's dead, and Spider-Man killed her." But when he tells Spider-Man he needs to come in for questioning, he finally snaps out of his reverie and rushes off to find The Goblin. He switches to Peter Parker and goes to the Osborn home, only half expecting to find Norman, and sees Harry, instead.

Peter is so consumed by revenge that he ignores his pleading friend and leaves. Spider-Man again, he goes to the one person he usually sees when he needs help…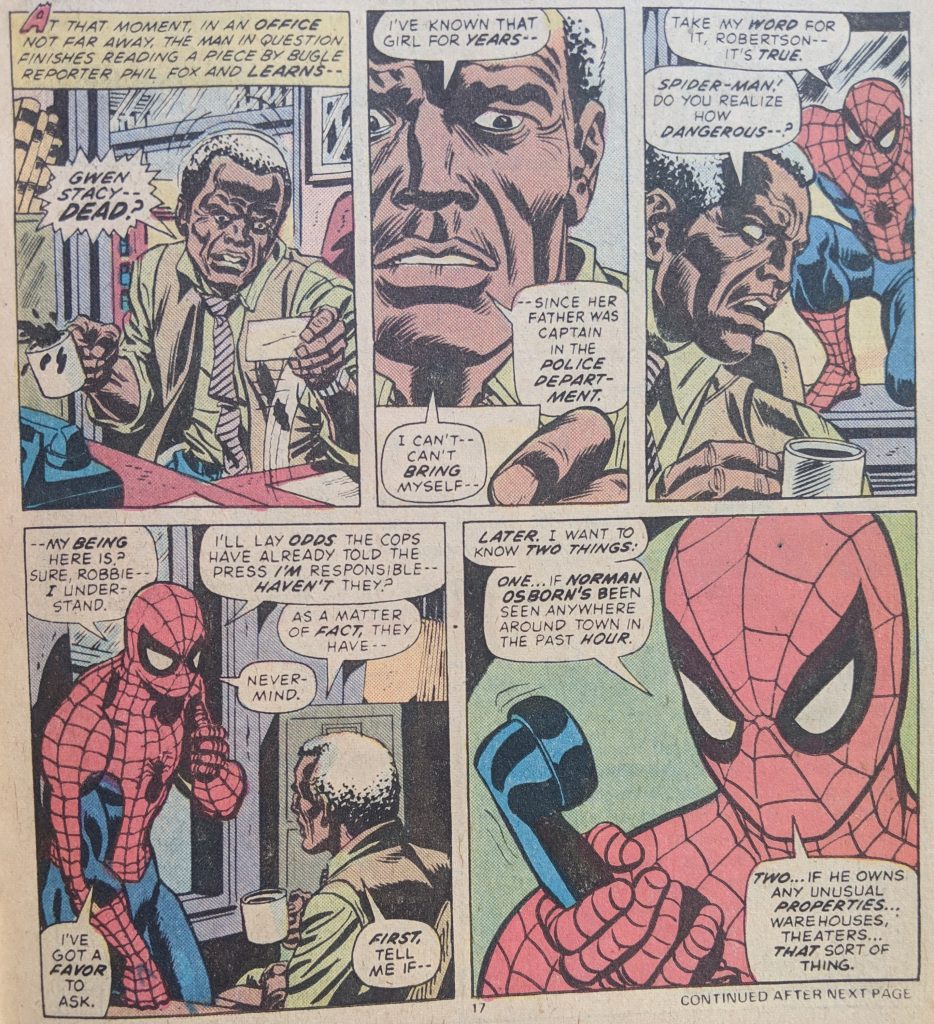 Robbie helps him confirm that Obsorn owns a warehouse on 23rd St and 9th Av, and was spotted there 40 minutes ago (Man, who are his sources?), but Spidey can't get away before JJJ comes and yells at him. He just webs Jonah's mouth and goes. No time for the usual. Surely Robbie must have some suspicions, here. In said warehouse, it seems the Norman Osborn and Green Goblin personalities have merged for the first time since way back in ASM 40.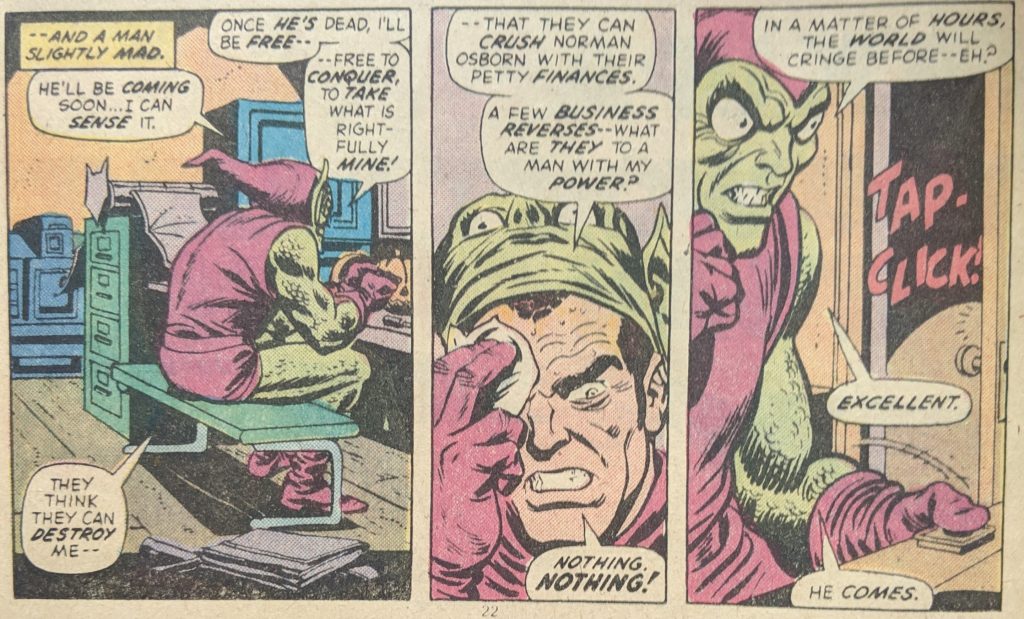 Ready for a fight or not, The Goblin just isn't anticipating his enemy fighting with a desperation he's never seen before. Spider-Man always worried about hurting his friend's dad before, but it's different now. He smashes the Goblin's glider, which sends him into a rage, and he starts talking about how useless Gwen was.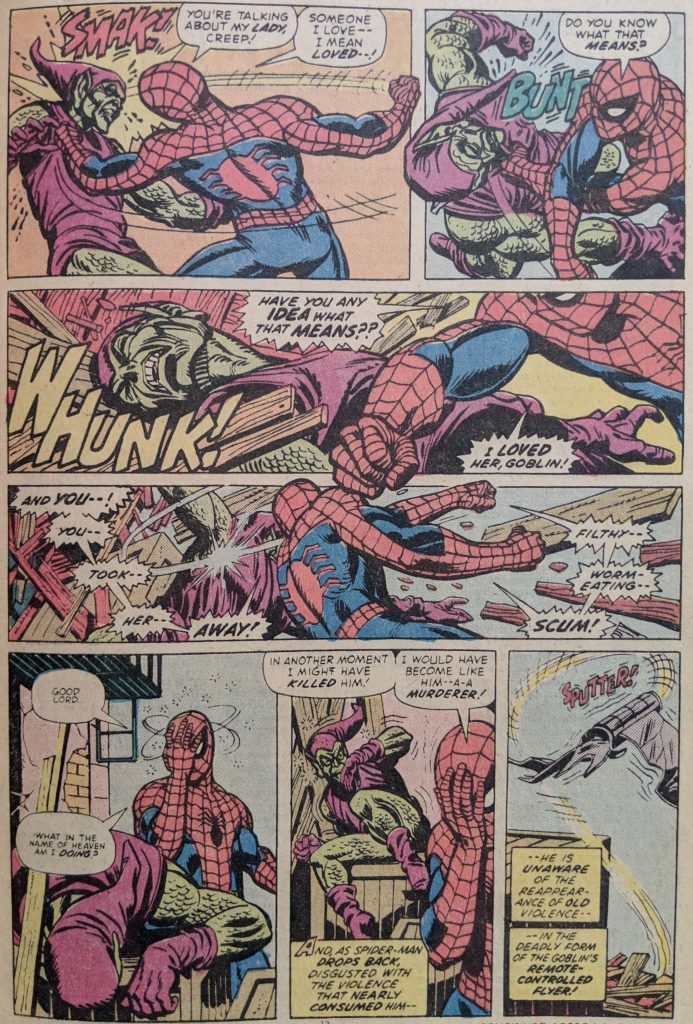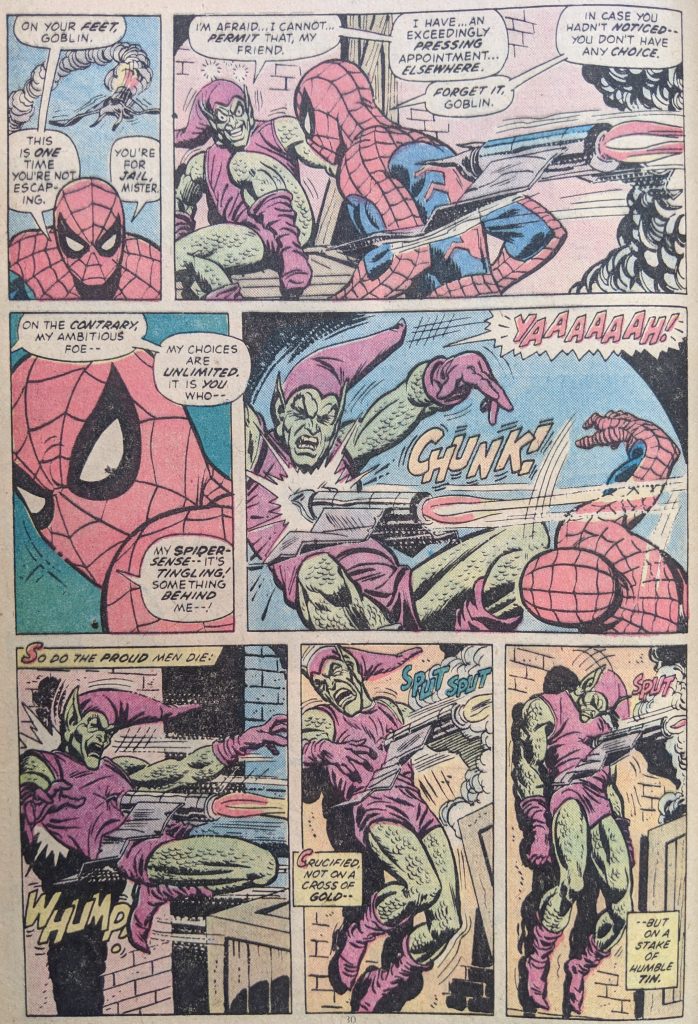 Weird captions, Gerry! I've always thought the glider looked unusually small in this sequence. Spidey finds that watching his enemy die didn't make him feel any better. He thinks death should have meaning, even for a monster like Norman, and this accident has just left him feeling empty and alone. And as he leaves the warehouse, his rage subsiding, he doesn't notice a mysterious figure in the shadows. That will come back to haunt him before too long.

And there you have it. The end of one of the most famous Spider-Man, and even superhero, stories ever. How can the Spidey strip go on from here? How can what should be a lighthearted adventure comic deal with this kind of loss? We'll have to wait and see, because this is where I'm breaking on the Conway era. I know! Rude of me! Next post, we'll jump ahead some 31 issues to have a look at ASM by writer Len Wein & artist Ross Andru.
Here's the original cover: