That is… some cover copy. Musical chairs continues as Ross Andru returns to the penciling job and Gil Kane shuffles off to more ASM. He's not inked by his pal Mike Esposito, but rather one Frank Bolle, a name unfamiliar to me. Things are shakin' right on page one as some kinda localized earthquake is rocking Avengers Mansion. As people on the surrounding streets jostle all over the place, one particularly annoyed cop pulls his gun and decides to march in there and find out what's going on.

There he is. As IM tells the cop he doesn't know what's going on and heads to investigate, Andru's Iron Man is really taking its cues from Gene Colan. Meanwhile, Peter Parker sees this happening on TV. While this issue came out the same month as ASM 120, we're explicitly told this happens before 119. Anyway, Peter explicitly decides not to go help, for some reason, but…

He's WHAT?? Good gravy, that bit of slang didn't age well! Also, this is not the first time Gerry Conway will have Peter Parker talk about his love of baths, which is odd. At any rate, Spidey goes to the mansion. Iron Man is not happy to see him, because it seems like no one ever is in this book, but when an opening suddenly appears in the field around the mansion, both heroes dive in.

They've fallen into a Steve Ditko dimension! And they're atop some kind of floating platform as the two space ships dogfight above them. When one of the ships destroys the other, Iron Man flies up to engage, assuming they're next, but he's caught in a force field. He tells Spider-Man to run.

Ross Andru will pretty soon begin a long run on ASM, but his earlier Spidey here in MTU looks remarkably different. Zarrko explains his deal, and I'd rather show than tell, frankly…

Ok, we're all caught up, I suppose. Zarrko says he'd hoped to bring The Avengers to his time to fight the invaders, but his still-unnamed enemy got to them first. Spidey & IM leap out of the ship and start fighting the purple suited goons. There's a whole lot of them, though, and they're everywhere. The heroes dispatch a small army of goons before breaking into the big fortress. They're not inside long before still more goons attack them on flying bikes, but those just fly right into Spider-Man's web.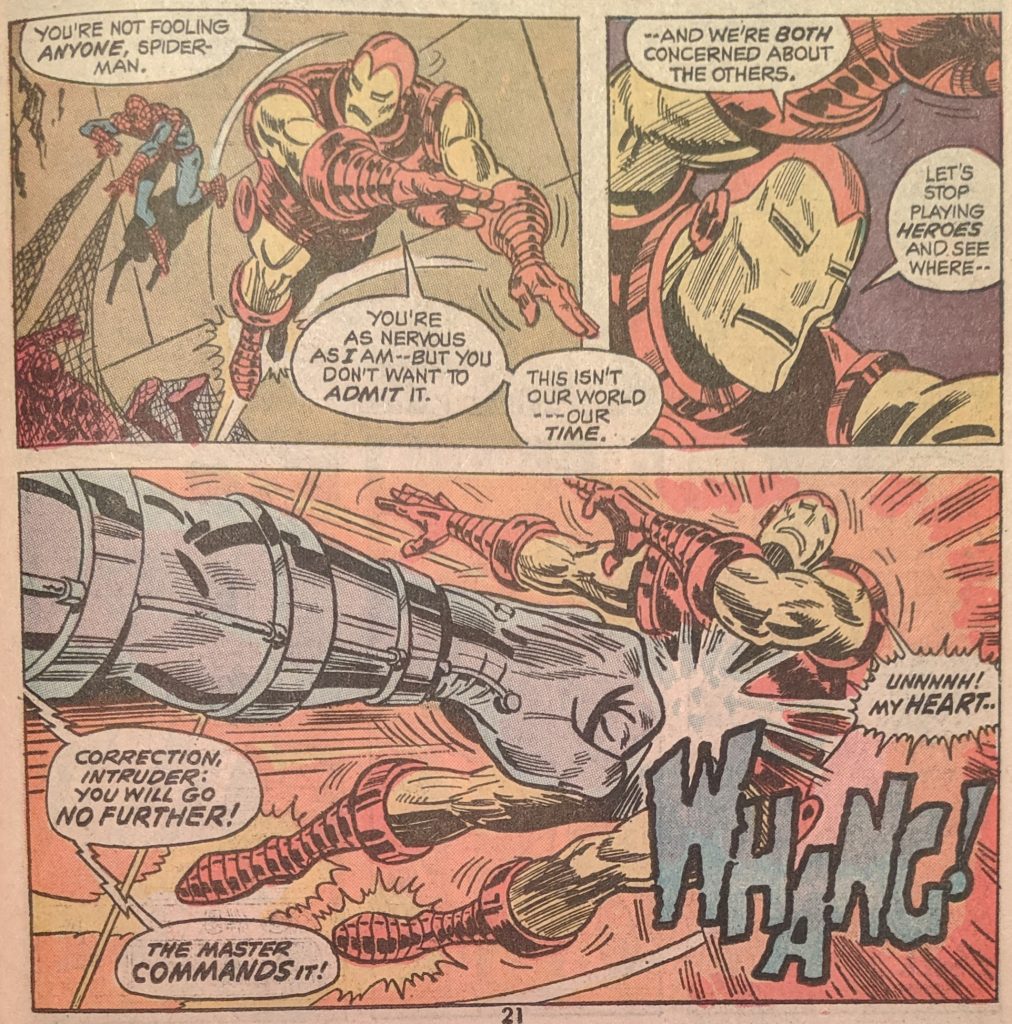 That big ol' arm belongs to a giant robot that seems to be disgusted by the idea of organic matter. Spidey starts flipping around to buy the badly damaged Iron Man some time to recover.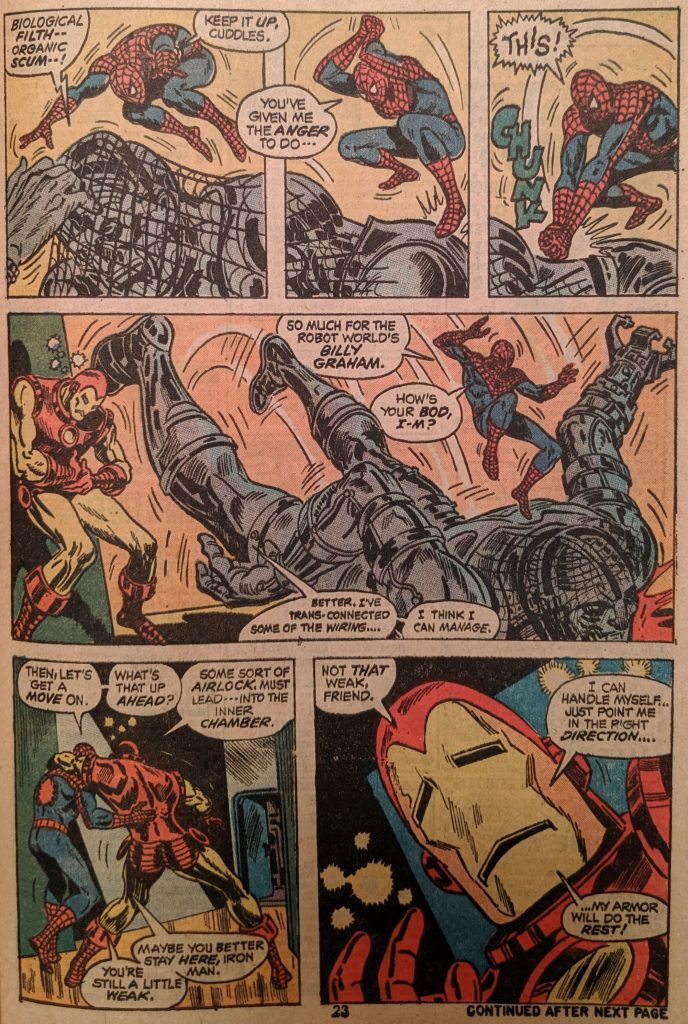 Take that, Billy Graham! As the heroes soldier on inside, outside, Zarrko lands his ship, elated by the idea of taking over the invaders' stronghold and using it to conquer the world (What, you thought he was a good guy?). Spidey & IM find the other Avengers (At this time, Captain America, Thor, Quicksilver Vision, Scarlet Witch, and Black Panther, who are joined by faithful butler Jarvis in some kind of glass prisons.

Kang! The time traveling warlord and my personal favorite Avengers villain means big trouble whether Spidey knows it or not.

Things are looking grim! But my biggest question is how The Human Torch gets involved next issue. We'll find out next post.