By now it's already obvious that aspects of one team-up story tend to flow into the next, even when the next issue is a different guest. The Morbius thing started with The Torch and ended with The X-Men. Now it looks like The Puppet Master isn't done from last issue. And he's brought The Mad Thinker with him. Two of the FF's weirder nemeses in one issue. Have to have any least one of the FF here to fight 'em. This issue seemingly opens not long after the last, with Ben Grimm happening on Spider-Man in The Baxter Building with the unconscious Puppet Master. We also learn that Gil Kane draws a rather odd Thing:

Not egregiously wrong, but a bit off. The Puppet Master also happens to be Alicia Masters' stepdad, and in spite of his evil mind control puppet business, she loves him, so she's not into Ben beating him up. But Ben drags him off into another room, anyway, and comes back saying he's just learned Alicia's blindness might not be permanent? Really? Everyone hops in a Fantasticar and flies to Pennsylvania. PM recaps his villainous origin for Spider-Man, which is also the origin of Alicia's blindness. How he worked with another dude on a project to unlock "the building blocks of life" while secretly coveting his partner's wife and child (Alicia and her mom) and eventually getting so bitter he decided to destroy their work. But Alicia's dad showed up, and they fought, and he died, and then the lab exploded just as Alicia & her mom came to check on it, and while no one was killed, Alicia was blinded by the radioactive clay they'd been working on. Puppet Master says he was filled with self-disgust and swore to undo what he'd done.

The Puppet Master has been menacing the FF to the chagrin of his stepdaughter for years, at this point. Why has the notion that he could cure her blindness never come up before? Especially if he's so broken up about causing it? Feels awkward. The three men leave Alicia in the relative safety of the Fantasticar, and it's a good thing, since some kinda energy cannon pops up out of the ground and knocks out Spidey & Ben as Puppet Master dives into the spot it came from.

Spidey's eyes are huge in this. It could be 1990. The heroes find the thing that zapped 'em and Ben destroys it. Then they split up to explore the lab. But they don't know there's someone else to consider: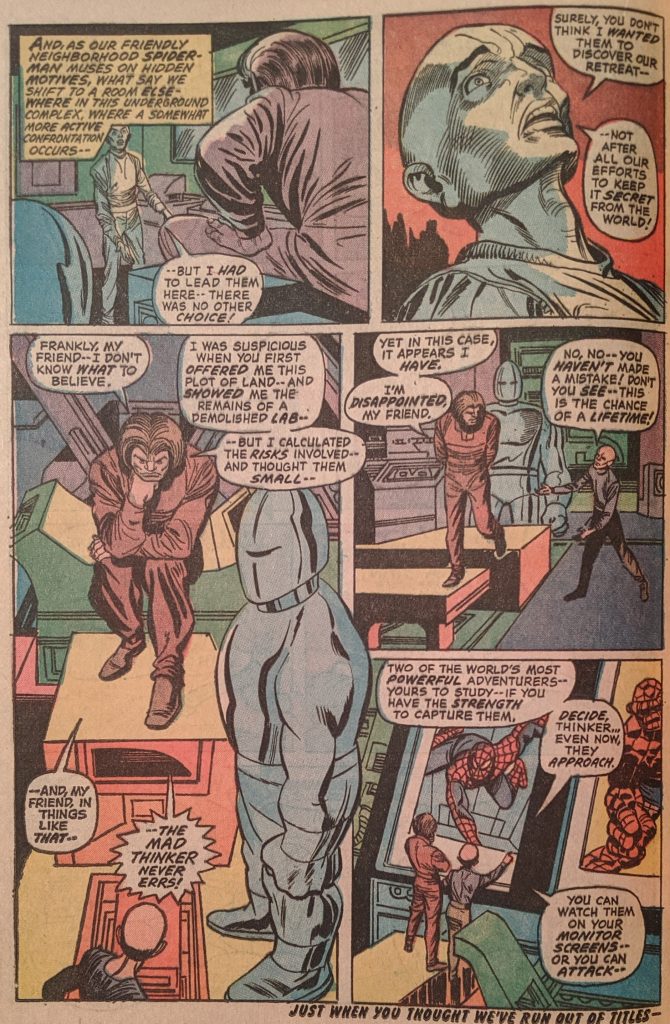 Mike Esposito isn't doing Kane any favors, but even here, I just love the guy. Anyway, the villains do their thing, and in short order, Spider-Man goes sliding into a shaft full of "superslick oil" like on the cover, while The Thing finds himself trapped in a room all the air is being sucked out of, and even he can suffocate. The villains are having a great time. Then The Thinker sees Alicia on a camera, and sends his android to protect her.

Spidey finds a vent at the bottom and crawls in. Meanwhile, the villains watch on a monitor as the android approaches Alicia, who is naturally freaked out by the sound of some silent, big thing lumbering toward her that isn't her Thing. Puppet Master is upset, but The Thinker finds it amusing.

Even in comics this old, you don't often get a good, old fashioned BONK. Spidey seems to have the villains under control, but there's still a robot menacing Alicia. Luckily, The Thing is somehow there to fight it. They battle back and forth for awhile, but we only have 2 pages left, so…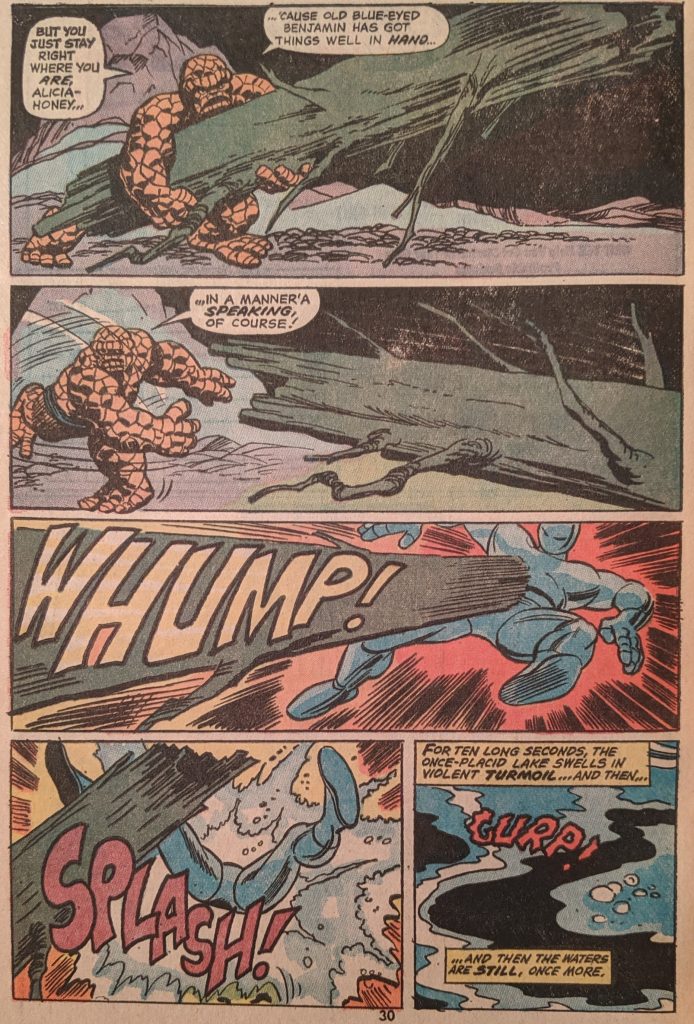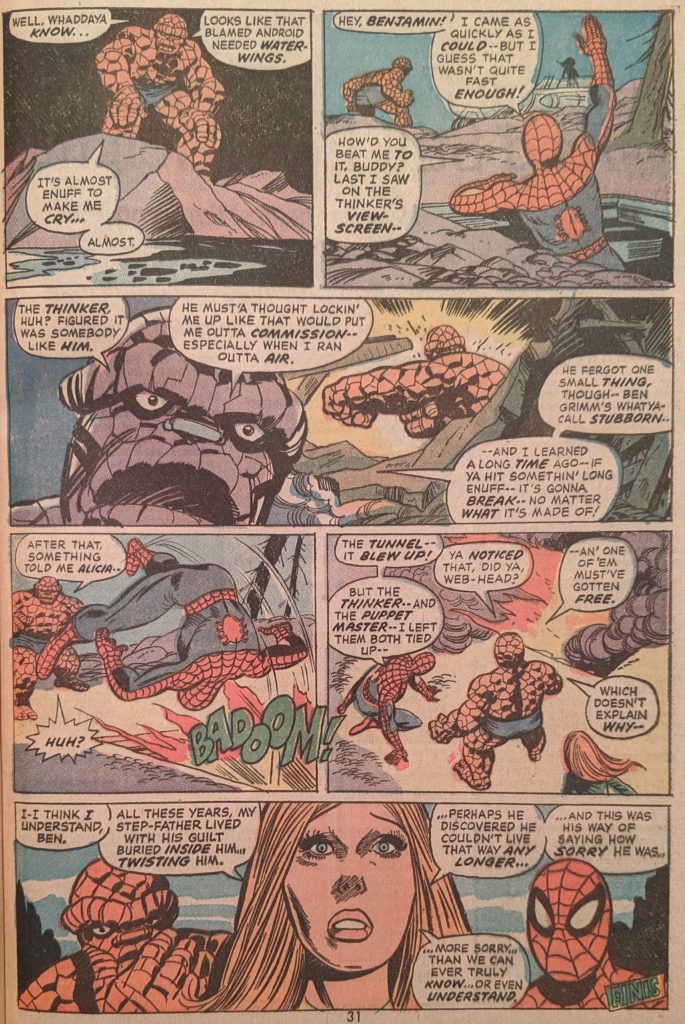 Probably not, Alicia! The Puppet Master continues to menace the FF to this day, so probably not. Spidey/Thing team-ups are always a good time. This is not the last time we'll see them together in these pages.