Credited or not, there's no mistaking a Kane/Romita cover. Inside, Gerry Conway takes over for Roy writing. I believe he is all of 19 at the time. Kind of amazing. Pencils are still by Ross Andru, but Jim Mooney has swapped in on inks. We open on Johnny Storm, down on the docks at night, STILL moping around about not being with the Inhuman Crystal at the moment, when he's approached by a cartoon Irish drunk named Nathaniel, who asks him what's wrong and is told "everything."

Johnny bursts into flame and flies off, of course, leaving Nathaniel to swear off the booze. Will he, though? Who knows? Johnny has gone looking for his good friend Spider-Man, and finds him with remarkable speed.

I'm not sure why everyone but Stan decides Spider-Man is just a total jerk in the 70s, but get used to it, because they sure do. As a rightly offended Torch flies away, we see Spidey is being watched by The Wizard, leader of The Frightful Four, along with his teammates, Trapster & Sandman. The Wizard says now that Medusa has quit the team, Spider-Man will be their 4th member. Sandman's sure not into that, but he is silenced by The Wizard, who says at dawn they strike the Fantastic Four. Thus, the next morning, Johnny is alone in The Baxter Building, a buzz from the front door downstairs turns out to be Spider-Man. Thinking he's come to apologize, Johnny goes down to meet him.

Well. Spidey silently batters Johnny, who notices Sandman is with him, and finally gets made enough to fight back. That took way too long. He kicks Spider-Man into the next room, where we see the rest of the evil FF hanging out, but The Wizard says to just let the 2 fight. Spidey webs Johnny, and he finally flames on to burn free.

Johnny drops the flame and Spider-Man is able to push him to the ground so hard he bangs his head and passes out. When he wakes up, he's in a straightjacket, with his legs stuck in Trapster's glue gunk for good measure. He watches as The Wizard tries to use some of Reed's gear to tap into The Negative Zone. Apparently he's got some kinda "cosmic device" he hopes to power with energy from The Negative Zone, but his teammates' harassment of the still-entranced Spider-Man causes him to lose concentration and draw the attention of The Negative Zone's most fearsome inhabitant, Annihilus. As his name would imply, he's a pretty dangerous dude, and The Wizard is actually scared. Annihilus announced he is supreme in his world…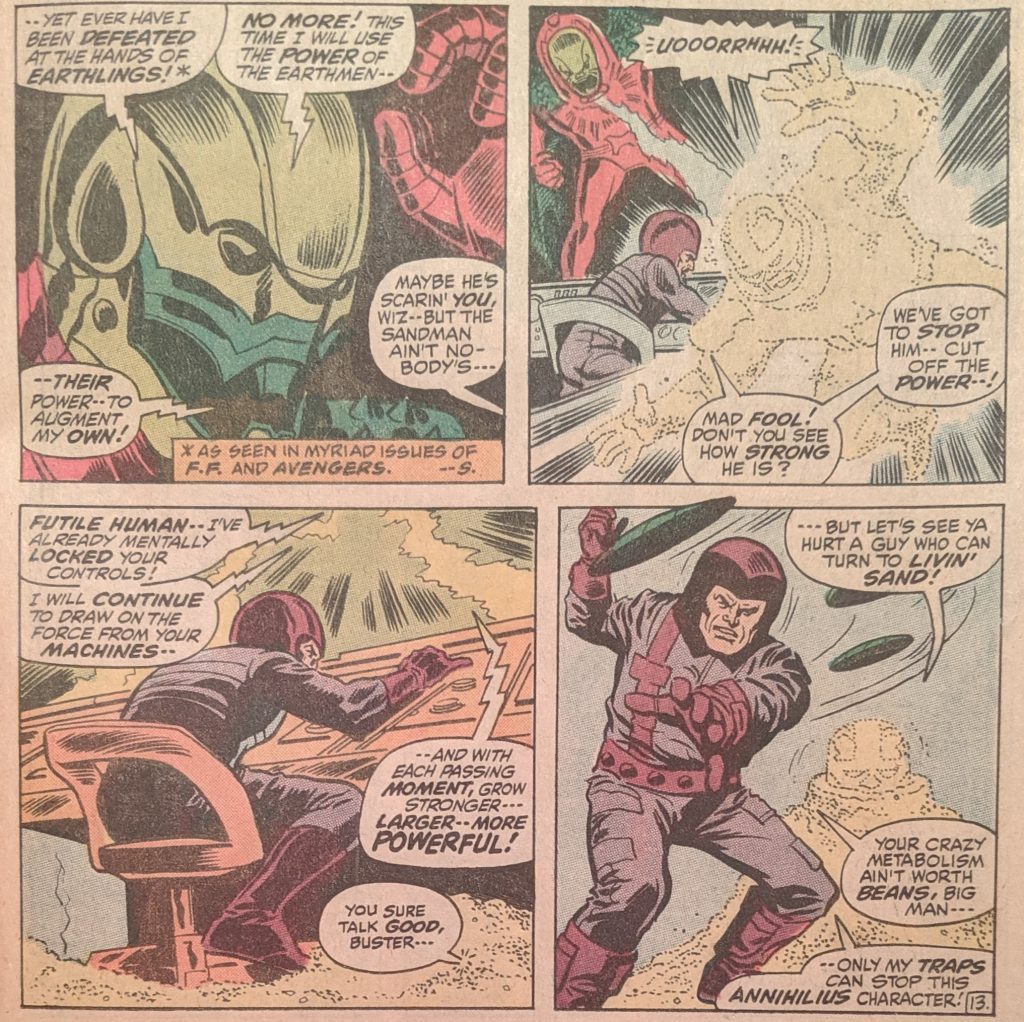 This sure spiraled out of control quickly. Johnny sees it, too, and burns out of his bonds. The Sandman tries to stop him, but still kinda messed up from tangling with Annihilus, Sandy is unprepared when Johnny hits him with a fire blast, and… turns him to quartz? Ok, that seems rough. But that gave Trapster time to react, and he covers Johnny in his usual gunk, dousing his flames. Wizard sics Spidey on him, even as Johnny says they need him to stop Annihilus.

Guess what, that ol' trope works, and Spidey snaps out of it. No one ever really explained what was controlling him in the first place, but it's gone now, and the heroes dive into the evil FF for some payback. But beating up those dumbys doesn't get them any closer to stopping Annihilus, who is now almost through the portal.

And so, Spidey & The Torch get the fight with Sandman they wanted last issue, and then part on very bizarre terms. Why are they so weird to each other?? I don't get it at all.